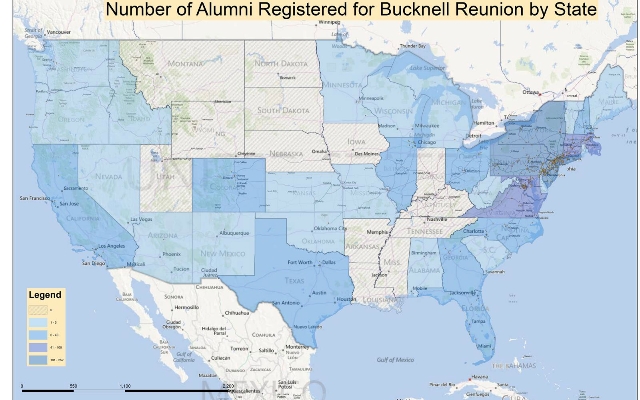 Thank you to all the alumni who visited the Bertrand Library while on campus for Reunion Weekend and congratulations to Shannon Hoover '08 winner of the Kindle Fire!
Here are some of the displays that alumni participated in and we look forward to seeing you again soon!
Alumni Memory Mosaic Project
Our GIS (Geographic Information Systems) department presented an "All Paths Lead Home to Bucknell" map.  Take a look here to see the distances people traveled to attend Reunion 2012!  To learn more about GIS at Bucknell, please visit our blog.
Then and Now Slide Show– a pictorial representation of the Ellen Clarke Bertrand Library through the years.
Strolling through memory lane, alumni were able to browse through copies of L'Agenda at the library and now you can too.  The L'Agenda can now be accessed through our digital collections up to and including 1960.
You don't have to wait until Reunion to visit Bertrand Library.   Stop by and see us whenever you're in town!