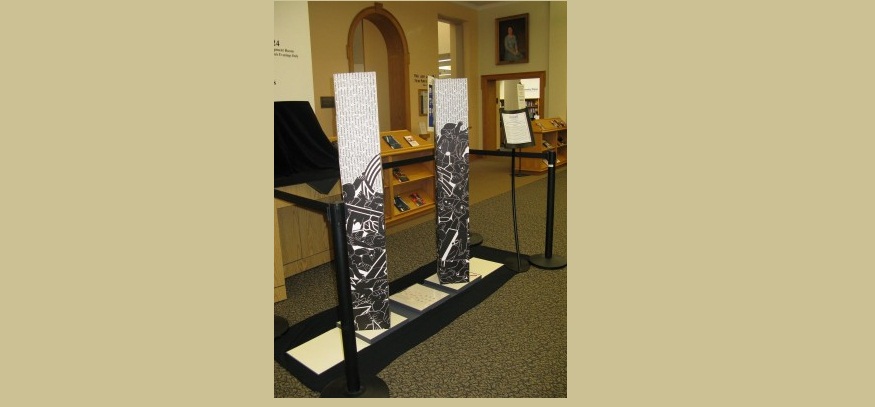 Artist Werner Pfeiffer's Out of the Sky: Remembering 9-11 is on display in the Bertrand Library, Main Level, until Wednesday, September 12. Pfeiffer's work commemorates the victims of the September 11 attacks and is designed as two five foot towers constructed from segments illustrated with woodcut images of falling victims with the names of victims of the attack printed on the upper portions of the towers. When deconstructed, the tower segments rest in vessels in a three compartment folding case which also serves as a base for the building of the towers. A book accompanying the work is written by the artist as a personal reflection of the September 11 attacks and its lasting impact on world politics.
Published by the Pear Whistle Press in 2006, Out of the Sky is a limited edition book printed on a Vandercook proof press. Images are pulled from original woodcuts and transferred to museum board from which the tower segments are constructed. Victims' names are computer generated and alternatively set in Arial Black and Helvetica and made into relief plates for letterpress printing. The bookbinding was conceived and produced by the artist. The book is issued in a three compartment folding case covered in grey cloth with a matching slipcase. The Bertrand Library's copy is number 32 of the 52 signed and numbered copies produced by the artist.
A sculptor, printmaker, and painter, Werner Pfeiffer was born in Stuttgart, Germany and studied at the Akademie der Bildenden Kunste. After immigrating to the United States in the early 1960s, Mr. Pfeiffer became a professor of art at Pratt Institute and the director of Pratt's Adlib Press associated with its Department of Graphic Arts. Mr. Pfeiffer has shown his work worldwide in both solo and group exhibits and continues to publish artists' books from his Pear Whistle Press which strives to realize art in book form.