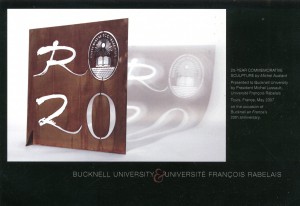 In May 2007, a commemorative sculpture by artist Michel Audiard was presented to Bucknell University by President Michel Lussault, Universite Francois Rabelais, Tours, France, on the occasion of the 20th anniversary of the Bucknell en France program. On April 10, 2013, President Loic Vaillant of the Universite Francois Rabelais visited Bucknell University and presented the sculpture to President Bravman in the Reading Room of Special Collections/University Archives. The sculpture has been added to the special collections and is displayed in the window of the Special Collections/University Archives reading room.
The Bucknell en France program was founded 1987 to provide opportunities for Bucknell students to study abroad in France and is administered by Bucknell University's French and Francophone Studies Program in cooperation with the Universite Francois Rabelais in Tours.
About the artist: Michel Audiard is a sculptor from the Loire Valley region who creates sculptures, furniture, and jewelry and is known for his unique fountain pens created from different materials such as ebony, bronze, and gold. He is the official sculptor of the Elysee, the presidential palace.