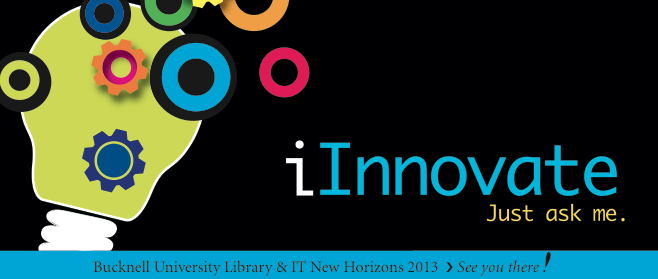 New Horizons Fall Faculty Lunch Series
12 PM – Traditional Reading Room, Bertrand Library
The New Horizons Faculty Lunch Series provides opportunities, through peer-sharing and outside speakers, for faculty to look at the possibilities technology and the library may bring to their teaching and research in the near-term and distant future. Lunch will be served. All sessions will be held in the Traditional Reading Room. RSVP appreciated but not required to lit-events@bucknell.edu.
September 18
Digital Scholarship: What, Why and How? › Digital Scholarship Coordinators Diane Jakacki and Andy Famiglietti lead a discussion of Bucknell's growing initiatives in Digital Scholarship. What is the current state of Digital Scholarship? What ideas do you have for Bucknell's digital future?
September 25
Presidential Task Force on Integrating Open Educational Resources and Residential Learning › Join Provost Mick Smyer, Task Force Chairs, Vice President for Library & Information Technology, Param Bedi and Professor of Economics /Director of the Teaching and Learning Center, Geoff Schneider along with Dean George Shields and Dean Keith Buffinton for a discussion of the report and its recommendations. RSVP strongly encouraged
October 2
Student Project Showcase › Bucknell students have an increasing range of opportunities to undertake impressive projects using technologies such as GIS, video production and others. This session will provide an opportunity to hear from students directly about these projects, and as well to see their work firsthand.
October 9
Big Picture: Open Access, Faculty and Impact › Suzanne Kriegsman, Office for Scholarly Communication Program Manager will join us virtually and share the compelling story of Open Access at Harvard and what it has meant for not only their faculty, but the wider world of researchers.
October 22
TUESDAY Event › Invited Speaker, Andrew W. Mellon Foundation, Bucknell University Digital Scholarship Initiative › Jason MIttell Jason Mittell is Professor of American Studies and Film & Media Culture at Middlebury College. In 2012, Jason elected to release his latest book manuscript, Complex Television, serially on MediaCommons for open peer review and public comment, prior to submitting it to NYU Press. As an outspoken proponent for new forms of peer review and digital publishing, Jason will share his first-hand experiences as well as provocative ideas for the future evolution of scholarly discourse in the digital age.
October 30
Tinkering Our Way to a New Future? › Andy Famiglietti
Digital Scholarship Coordinator Andy Famiglietti demonstrates how methods of tinkering and participatory learning drawn from the Maker community create new opportunities for teaching and scholarship. He will demonstrate how new technology can enable these methods with demonstrations of Google Glass, 3-D printing and an aerial drone.
November 6
Digital Scholarship: What's happening 'out there?' › Diane Jakacki
Digital Scholarship Coordinator Diane Jakacki discusses recent projects that demonstrate the digital media's potential for enabling meaningful collaboration across disciplinary and institutional boundaries. This presentation will explore how Bucknell faculty and staff can both develop and participate, and how our new Digital Scholarship Center can help.
November 13
My Classroom is Flipped-Oh My! › There is considerable interest in experimenting with flipped classrooms at Bucknell. A number of faculty have undertaken flipped classroom initiatives in the past year. Hear directly from them about their experiences and their words of advice for those contemplating similar endeavors.
November 20
Apple Distinguished Educator Margot Vigeant › Margot Vigeant
Margot Vigeant (Engineering) was selected as an Apple Distinguished Educator for 2013-14. Margot will share what she learned about creating student projects and educational materials using text, audio, and video as well as several useful classroom apps.