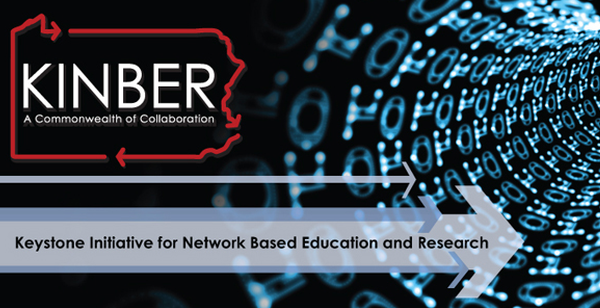 Kinber stands for The Keystone Initiative for Network Based Education and Research. Formed in 2010 as a result of a $99.6 million grant from The American Recovery & Reinvestment Act (ARRA), KINBER is a non-profit corporation that oversaw the installation of the PennREN high-speed fiber-optic network within the Commonwealth of Pennsylvania. Fully completed in April 2013, PennREN (The Pennsylvania Research and Education Network) connects universities, colleges, K-12 schools, libraries, public media organizations, and health-care organizations together in order to allow for high-speed transfer of large data sets; high-quality, low-latency video conferencing; and high-speed connections to cloud-based data storage, among other possible uses. KINBER also connects to advanced research networks in 38 states across the U.S.
Taking Advantage of KINBER/PennREN
One of the underlying purposes of KINBER is to facilitate collaborations among the various institutions that are KINBER members. For a higher education institution like Bucknell, collaborations could include:
Exchange and analysis of data between universities, hospitals, and other medical providers as part of ongoing economic, sociological, and bio-medical research. For example, the Bucknell-Geisinger Research Initiative (BGRI) can take advantage of the high-speed PennREN network to share data among research collaborators. In addition, medical specialists, clinicians, and scientists at The Autism and Developmental Medicine Center, created in partnership with Bucknell, can share and access high-resolution Magnetic Resonance Imaging (MRI) scans as part of ongoing research on autism to deliver more effective care for children suffering from autism spectrum disorders (ASDs).
High-speed access to large video and data archives. Pennsylvania Spatial Data Access (PASDA) serves as the official clearinghouse for geospatial data for the Commonwealth of Pennsylvania. Using the PennREN network, faculty at Bucknell can download aerial photographs, maps, and other geospatial data to support ongoing research in Geography, Geology, Engineering, and Environmental Studies. The PASDA data repository is, of course, only a local example; there are many other video and data archives whose content becomes more easily available to faculty because of the greatly increased transfer rates provided by PennREN.
Access to and control of remote scientific instruments and the data generated by those instruments. In Physics and Astronomy, for example, telescopes are often situated in remote locations to reduce "background noise" and interference from earth-based radiation. High-speed network connections can allow researchers to manipulate those telescopes and other advanced scientific devices and to receive the resulting data much more quickly and reliably than they can over the commodity Internet. You can see specific examples at Internet2's page related to remote instrumentation.
Real-time video conferencing with faculty and researchers at other PA institutions (and internationally, relying on other network partnerships), allowing for collaboration, consultation, guest lectures in courses, etc.
Live artistic performances originating from and being broadcast to multiple locations. For example, a violinist in Philadelphia and a cellist in DeKalb, Illinois, performed together for a live audience, taking advantage of the greatly reduced latency (transfer delay) allowed by high-speed networks. See http://www.internet2.edu/arts/LOLA.html for more details about the performance and the technology that made it possible.
"Master classes" in the visual and performing arts between students and remote directors, musicians, and other artists, once again relying on video conferencing via high-speed networks with very low latency.
Partnerships with schools to engage in real-time interactions between education majors and students.
Classes in atypical subjects shared across institutions, such as the study of languages not taught by resident faculty members.  E.g. Bucknell Arabic faculty could open their classes to an audience off campus.
These are just some possibilities, based on how high-speed networks are currently be used. We invite faculty to consider other possibilities, perhaps expanding existing collaborations and initiating new partnerships that can take advantage of high-speed networks to overcome the limitations of distance and time.
Links: