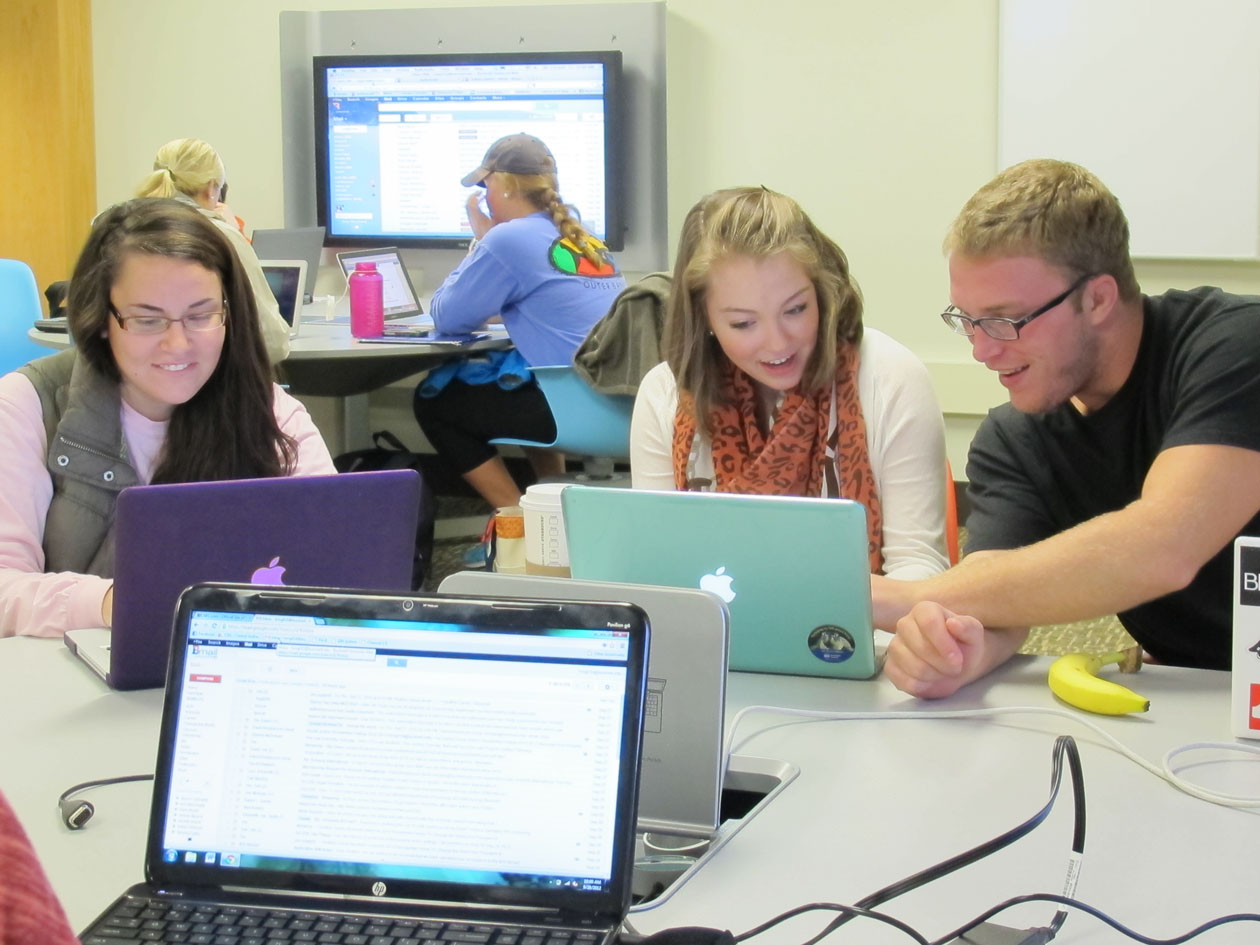 The BUI Student Life Cycle Pilot Project Team has diligently pursued the objectives and outcomes discussed at the January 2013 Board of Trustees Meeting (see below).  We now have over 25 key administrators trained and beginning to access student data in the data warehouse, including Athletics, Engineering, Arts and Sciences, and Student Life administrative staff.  This has been accomplished through an new open access model that looks at "Student" data holistically rather than as data silos of the  "Registrar", "Admissions", and "Financial Aid" offices.    For the first time at Bucknell, student data "snapshots" have been established for point-in-time, period over period, comparative analytics on metrics such as retention rates over time and registration counts over time.
By looking closely at how we capture and use the data that feeds the data warehouse, we have identified and added new key metrics to our student data including indicators to track and report on our students in greater detail.
Over 20 reports and/or dashboards have been developed for production consumption by our staff.  As part of this development process, the Degree Completion Working Group seized the opportunity to move from a culture of "Assessment" toward a "Performance" mindset by applying our new, validated warehouse data to the creation of a student retention scorecard.   This scorecard will proactively measure our progress toward increasing our goals of increased retention.
As a result of these and other pilot successes, the overall BUI Program has taken a large step forward in the past several months.  At a program level, we know there are months and years of work still ahead and many other efforts already underway in order to realize our long-term outcomes.  One of these parallel efforts include formation of a BUI "author" working group to share and grow analytics best practices across offices.  Another is the effort to document and define our key data in a BUI data dictionary that will be actively updated by data stewards and proactively researched by consumers and authors of BUI information.  In addition, since January 2013, two reallocated Library and IT staff and one new Institutional Research staff member have been charged with an increased focus on the program and helping to grow and support the new culture of BUI.
Finally, the BUI Phase two project is now well underway.  This effort will expand the scope of student data in the warehouse, fully move the legacy registrar office reporting to warehouse-based analytics, create some "foothold" analytics in the admissions and financial aid offices, and consider strategic questions tied to Presidential and Provost priorities.   Phase two is targeted to complete in April 2014 and will be followed by projects to incorporate data from other functional areas of the institution.
Objectives:
Improve our capacity to create and monitor key performance measures, find data trends and exceptions and grow a culture of data-driven decisions across all divisions.

Form a common data store and data access model, shared across all units that eliminates data silos and enables both strategic analytics and operational reporting.

Enable point-in-time and historical data snapshots for dynamic analysis over time, such as admissions patterns, giving patterns, etc.

Ensure comprehensive integration with Banner data, including adjusting our legacy business processes to maximize the value from this system.

Establish consistent use of data definitions, audit documentation, and data stewardship across multiple University dimensions

Consolidate business intelligence tools to maximize our analytics competencies at all functional levels while minimizing the technical support footprint.

Create executive dashboards for the members of the Operations and Management Group to assist with their deliberations and decisions.
Outcomes:
Increased data sharing of student data among offices and streamlined access rules

Inclusion and quality assurance of student information in the data warehouse

Production and testing of key baseline administrative reports that focus on student data

Development and adoption of a scorecard or dashboard of metrics to help analyze and monitor our progress against strategic retention goals.