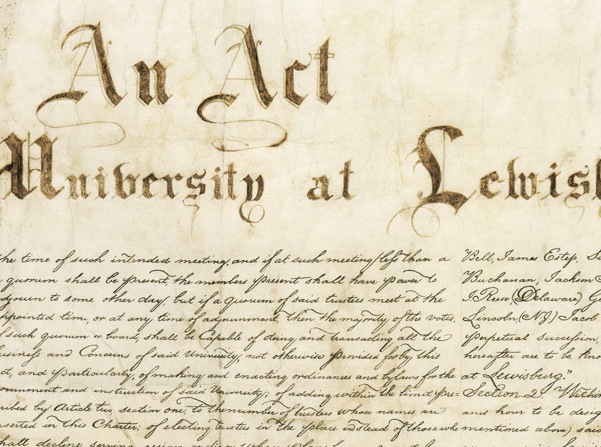 The mission of Special Collections/University Archives (SCUA) is to collect, preserve, and provide access to unique and rare materials, including Bucknell University's historical records. To achieve its mission to preserve collections requires monitoring and evaluating the physical condition of materials so they are protected in the best manner possible and will remain available to future researchers. During the past year, special funding allowed SCUA to take its preservation efforts one step further by contracting with professional conservation services to stabilize and repair the damage on two important and valuable items:
Charter of the University at Lewisburg
Bucknell University is most fortunate to have retained its primary historical record: the charter of the University at Lewisburg (the former name of Bucknell University) written by Acting President Stephen W. Taylor and signed by Pennsylvania Governor Frances R. Shunk in February 1846. For a number of years, the charter was framed and displayed in the President's Office until its transfer to the university archives collection in fall 2012. Upon its arrival, the condition of the parchment, ink, and the framing were evaluated. We also considered how this important university record could be shared with the campus and others in a visible spot while ensuring the charter remained in an environment that protected it from theft and further damage. Thanks to a gift from the Friends of the Bertrand Library Fund, arrangements were made with Conservation Center for Art and Historical Artifacts (CCHA) in Philadelphia for a condition appraisal and treatment plan to conserve the Charter.
The charter was unframed and the parchment and ink tested for stability.  When the frame was removed, they discovered soft paper fibers covering much of the front of the document and extensive creasing and weakening of the parchment throughout. The paper seal was also creased and torn in parts. In May 2012, SCUA received the charter in its conserved state, which has helped to guarantee its preservation in the future. A facsimile of the charter hangs in the Traditional Reading Room of the Bertrand Library.
The Birds of Europe
One of the more interesting titles in special collections is John Gould's The Birds of Europe, published in London in 1837. The five volume set consists of descriptive letterpress text and large, water colored plates of European birds. Each volume is bound in full green leather with a gold tooled title on the side, gold tooled raised bands on the spine, and the initials "Audubon FRS" in gold tool on the front covers. (Although not confirmed, it is thought that this copy was owned by James Audubon.) Its physical condition indicated damage assumed from use and a lack of proper housing that caused scratching and scuffing of the leather. Loose or broken hinges connecting the covers to the spine made the book unstable.
Mr. William Minter, bookbinder and conservationist, prepared a treatment report and eventually proceeded with the work needed to stabilize and preserve the volumes. Mr. Minter's greatest concern was the first pages or leaves of each volume adhering together or being sewn into the binding, which had caused the brittle pages to tear when one opened the books. He removed the first and last three leaves of each volume, washing and deacidfying them and reinserting them in the book in a manner that allows unrestricted opening. The water color plates were interleaved on alternative pages with a paper that will help preserve the colors as well as prevent further transfer of images to the adjoining pages. Mr. Minter designed custom, cloth covered spine drop boxes to protect each volume. The underlying material used to construct the boxes is aluminum, which does not add to the heavy weight of the volumes as they are moved to and from the shelves. Those interested in viewing The Birds of Europe may contact scua@bucknell.edu