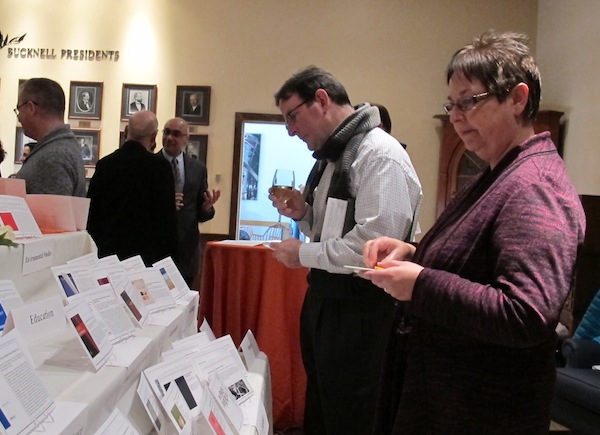 From Art History to Women's and Gender Studies, more than 160 published journal articles, exhibits, performances, films and other faculty works were celebrated at the Faculty Scholarship Reception on February 26, 2014.  Library and IT and the Provost's office co-sponsored the event to recognize and applaud the scholarship of 116 faculty members across 34 academic departments.
To honor both the memory and work of his colleague, Professor Wei Ge, Professor Emeritus Peter Kresl shared fond memories of traveling together to China and their lively, daily discussions outside Coleman Hall.  Professor Ge had a very active publishing record prior to his death in the fall of 2013.  His recent work, "The Chinese Currency and Global Rebalancing: A Discussion," published in China: An International Journal, was recognized as part of this year's scholarship celebration.
Guests at the reception also heard remarks from Mark Haussmann, Associate Professor of Biology; Katie Bieryla, Assistant Professor of Biomedical Engineering; Neil Boyd, Associate Professor of Management; Coralynn Davis, Associate Professor of Women's and Gender Studies and Anthropology; and Amanda Wooden, Associate Professor of Environmental Studies.  These faculty members shared their perspectives on the importance of undergraduate research as an introduction to faculty scholarship and the opportunity Bucknell provides to balance teaching and scholarship.  Several speakers highlighted the work done by their students and acknowledged the many opportunities to get to know their colleagues through interdisciplinary research conversations.
A full listing of works honored can be found at http://facultyscholars.blogs.bucknell.edu/. Faculty authors who published books during the last year will be celebrated at the Author's Reception during the fall semester.