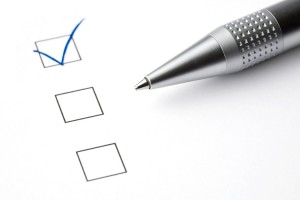 Do you need to survey a group of people, and you're trying to figure out the best software to use to create the survey and to collect responses? At Bucknell, we have several possible solutions available to you: Qualtrics, Google Forms, and Moodle.
Qualtrics
Qualtrics is the most robust survey tool, and it is available to all Bucknell students, faculty, and staff. Qualtrics makes it very easy for you to create simple or complex surveys, to distribute the surveys via email or via a Web link, to view the results from the survey, to download those results in a file format readble byExcel or by statistical software packages, and to create customized reports. You can access Qualtrics by going to our online Qualtrics site: http://bucknell.qualtrics.com. Qualtrics also has an online training program with many helpful tutorials. Qualtrics allows you to distribute surveys to members of the Bucknell community and to others outside the community, so it is the best choice for surveys to one or multiple audiences.
Google Forms
As part of our Google Apps for Education suite, Google Forms allows you to create simple surveys whose results are stored in an associated Google Spreadsheet. You get to Google Drive by clicking on the apps icon in the top-right corner of your Bmail window and then clicking on the triangular Drive icon: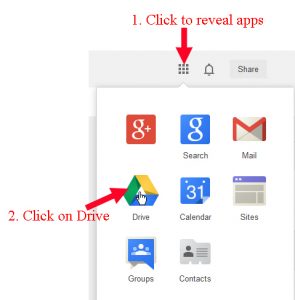 To create a form, click on the Create button in the top-left corner of the Google Drive window, and then click on Form: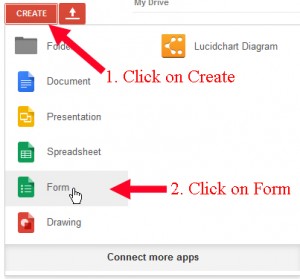 Google Forms works well for surveys distributed to other members of the Bucknell community who have access to the Google Apps for Education domain.
Moodle
Moodle has two survey tools – Questionnaire and Feedback – that can be used to create surveys administered to a particular academic course or to a particular group of people who have access to a Moodle site. You need to have the appropriate (Faculty or Teaching Assistant) status in the Moodle course to create the survey, which you do by turning editing on and clicking on the "Add an activity or resource" link in the bottom-right corner of a topic block. You would then click on Feedback or Questionnaire as the kind of activity that you want to add to the course.
Please contact itec if you have any questions about creating surveys for teaching or research purposes.