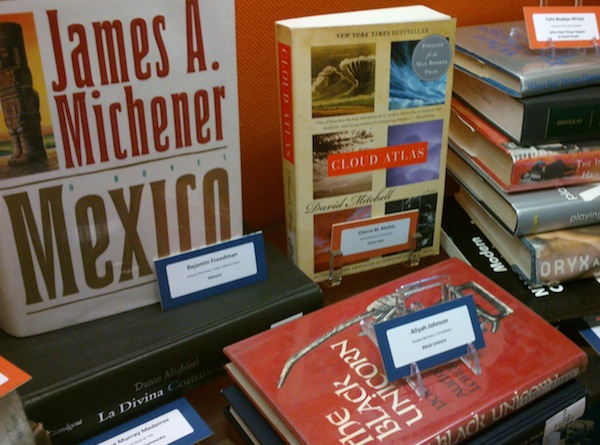 Each May, we at Library and IT celebrate our graduating student employees.  They do so much important work for us throughout their time here, and we feel it's important for their contributions to be commemorated in a permanent way.
Graduating Library and IT student employees are invited to select any book from our collection, (or if we don't own the item, we will buy it) which will be dedicated to their service for Library and IT.  Students are encouraged to select a book which has particular resonance or meaning for them.  The students and their selections are then honored at a celebratory luncheon, and then books are then placed on display in the library lobby.
As an example, here's Cherra Mathis's (Class of 2014) selection:  http://bucknell.worldcat.org/title/cloud-atlas-a-novel/oclc/53919721&referer=brief_results
If you know are, or know of an alumnus who worked for Library and IT (or one of its former incarnations), try a keyword search of their name in our library catalog
(bucknell.worldcat.org), and if they chose to select a book, you might just find it!
Congrats to all of our graduating students, and thanks for your hard work!