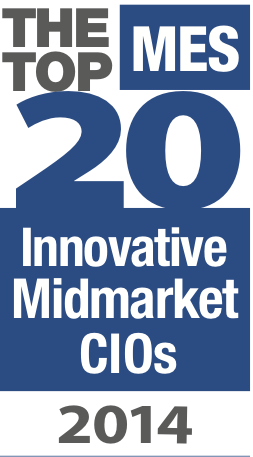 Library and IT's Vice President, Param Bedi, has been named to the inaugural Top 20 Most Innovative Midmarket CIOs list.   The new list shines a spotlight on the elite IT leaders who are using technology to drive one of the most important segments in the U.S. economy today.
Honorees were chosen for spearheading a successful IT project that helped a business grow, gained a competitive edge and/or achieved breakthrough results. The twenty final selections were made by the XChange editorial team based on application submissions.
In Bucknell's case, the project was the Bucknell University Intelligence initiative (more information in the Next Page: http://www.bucknell.edu/Documents/LIT/NextPage/NPFa13.pdf).  Asked to comment on the award, Param says, "I am very pleased to be recognized for our efforts on the Bucknell University Intelligence (BUI) project.  The BUI project will enable and improve our capacity to create and monitor key performance measures.  'Data driven decision making' is much more than just a buzz-word-based idea. It is a central outcome of an organization focusing a portion of its thinking and action around well defined, accessible institutional data. Bucknell is certainly taking a leadership role in this space."
"We are thrilled to promote the dynamic CIOs who are leading today's midmarket companies to great success by leveraging the power of IT to make a positive impact and transform the way their organization does business," said Lisa MacKenzie, SVP XChange Events. "The Midmarket is integral to today's economy, and its leaders deserve recognition for their dedication to innovation and constant pursuit of excellence. We congratulate these forward-thinking executives and wish each of them continued success."
The Top 20 Innovative Midmarket CIOs were recognized during the XCellence Awards at the Midsize Enterprise Summit East, the largest gathering of midmarket CIOs.
The full list of executives is published online on the XChange CIO Community and as a slideshow on CRN.com, the IT industry's leading news and analysis site.
XChange Events
Part of The Channel Company family, XChange Events connects sellers and users of technology through a diverse number of live and virtual events, designed to help attendees share best practices, network with peers and gain exclusive market intelligence from industry editors and analysts. Organized into three categories, XChange Events offers channel events, IT executive events and on demand virtual events to address every aspect of today's evolving IT market.   For more information, please visit: http://www.xchange-events.com/