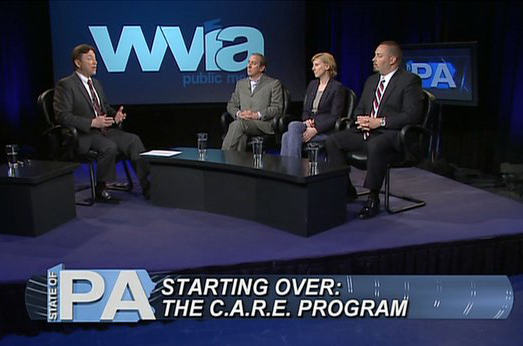 WVIA's State of Pennsylvania program recently focused on a video created by Eric Faden's Film/Video Production course during the Spring 2013 semester. Brianna Derr, Library and IT's Video Production Specialist, participated in the course and was one of the creators of the film, along with Bucknell undergraduates Caitlin Falco, Erich Gilbride, Tim Kim, and Zander Massey. The State of Pennsylvania episode profiled the Court-Assisted Re-Entry (C.A.R.E) program created by Chief U.S. District Judge Yvette Kane and Deputy Chief U.S. Probation Officer Eric Noll of the Middle District of Pennsylvania. You can watch the two-part broadcast here.
The Coming Home: The CARE Program documentary was created as part of Bucknell's Film/Media Production Clinic (FMPC). President John Bravman provided the initial funding for the clinic, which accepts applications from non-profit organizations that need videos created for commercials, Public Service Annoucements (PSAs), or short documentaries. Students in Associate Professor Eric Faden's Film/Video Production course (ENGL339/639) review the applications received and choose the project on which they will work during the semester. Under Eric Faden's overall guidance, the students work with the client to produce the requested video.
For the Coming Home: The CARE Program documentary, students interviewed former federal prisoners (currently on probation) who enrolled in the program, along with Chief Judge Kane, Chief U.S. Probation Officer Anthony Harvilla, Deputy Chief U.S. Probation Office Noll, and other judges, probation officers, and community mentors who participate in the program. According to Eric Faden, the students recorded approximately 50 hours of footage for the 16 1/2 minutes of the final video. After planning the video and discussing the requirements with Officer Noll and with other federal probation officers, the students spent three to four weeks filming the subjects of the video, then three to four weeks in post-production, combining the footage, editing the video, adding sound and other effects, and ultimately producing the final work. According to Brianna, the students saw the video as a "great opportunity to be part of something that would have a profound and lasting effect on individuals' lives." The central question the student filmmakers asked, Professor Faden explained, was, "How can we make people that are generally hidden from society . . . human, because they are human. . . . We really wanted to provide an opportunity for them [the ex-offenders] to tell their story."
You can find out more about how the video was produced, and you can watch the video itself, by going to the WVIA State of Pennsylvania Website, where Larry Vojtko's interview with Eric Faden, Brianna Derr, and Eric Noll is currently featured.