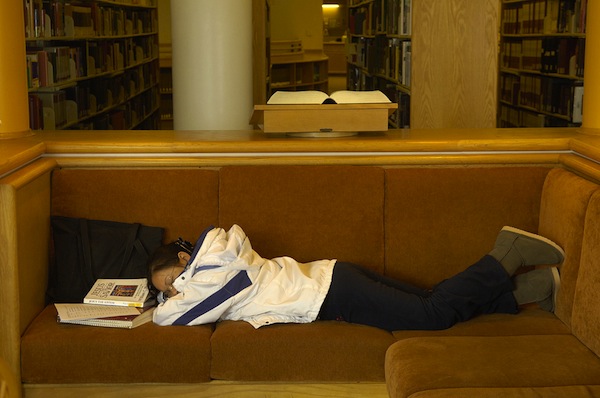 The library is a place to find books, get research and tutoring help, eat, caffeinate, and most importantly, study!  Bertrand offers a wide range of spaces for both group and individual studying.  So which ones are the best?  As we approach the end of the semester and finals, this list will help you find the perfect place to study in the library.
The Library Lab (L1).  This is by far the best group study space for collaborative projects.  There is ample seating, white boards, and each table in the room is outfitted with a screen that can connect to six laptops (adapters are available at the Equipment Desk).
Third floor quiet area (L3).  For those needing a quiet space for some serious thinking, look no further.  The individual desks in this closed room are perfect for those long study sessions.
Group study rooms(LL2, LL1 and L2).  The library's 10 group study rooms on lower levels 1 and 2, and level 2 are ideal for small group projects and studying.  Connectors for hooking laptops up to the TVs are available at the Equipment Desk.
Traditional reading room (L2).  In here, you can feel the history of Bucknell.  The Traditional Reading Room is open from 7:00am-10:00pm for some inspired studying.
The Maps and Atlases Room (LL1).  Looking for a different kind of study space?  The map room offers both tables for group work and individual computers as well as a nice change of scenery.