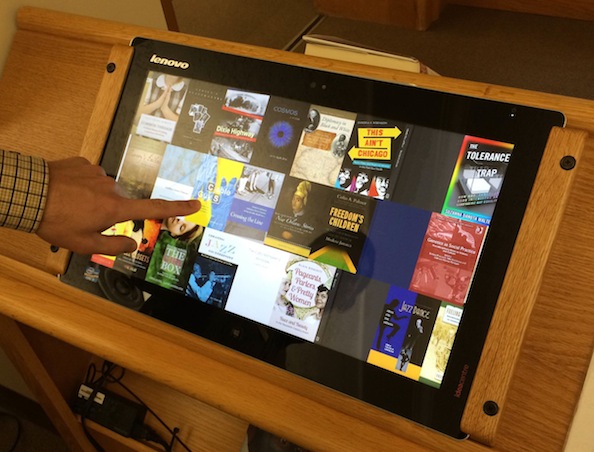 Innovation and creativity are central to a library's mission.  Without those tenets, we'd still be using a card catalog and stamping books to circulate them. The staff at the Bertrand Library is always eager to find ways for improving our service and anticipating needs that may not yet exist. In academic year 2012-13, the Bertrand Library purchased more ebooks than print books. While these books are as discoverable in our catalog as their print counterparts, we did not have a good mechanism for making our patrons aware of their existence, whereas print books were prominently displayed on the Library's first floor. Staff brainstormed a possible solution: an interactive ebook display where we could curate a digital new book shelf. Coincidentally, one of Felipe Perrone's computer science engineering classes was soliciting proposals for senior design projects.
Then-seniors Daniel Eshleman, Davis Gallinghouse, and Chris Cook elected to pursue the ebook display as their final project. They developed several potential models, such as an array of e-readers preloaded with content, but ultimately chose to use an all-in-one touchscreen computer for which they would write an application that would help library staff quickly and easily add content. The library had few but demanding requirements: the device needed to be as visually appealing to patrons as a traditional book display, and the process of adding and deleting books from the display needed to be extremely straightforward. Daniel, Davis, and Chris investigated various APIs and were able to create an interactive display consisting of a grid of book covers, each of which, when touched, will pull up information about that ebook and can email the patron a link to the ebook. Library staff only need to maintain a simple WorldCat list, and the application does the rest of the work.
Next time you're in the library, make sure you check out this great new addition, which is located adjacent to the self-checkout machine on the main level.