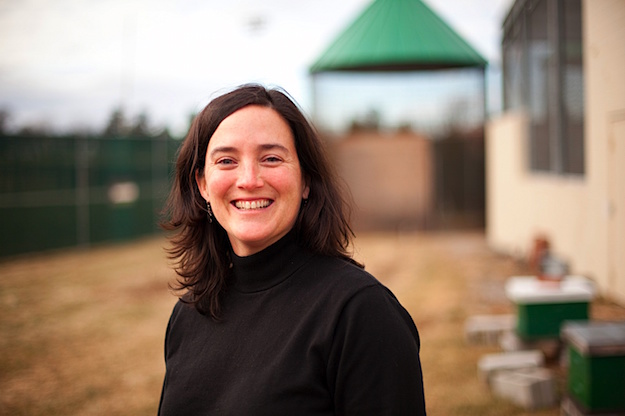 We hope you've enjoyed our faculty "What I'm Reading This Summer" series over the past few months.  In the coming months, stay tuned for a similar series featuring Bucknell University staff members!
Our final "What I'm Reading This Summer" story features Elizabeth Capaldi, Associate Professor of Biology and Animal Behavior.  Elizabeth is a biologist who "studies the relationship between insect behavior and brain structure."  Her research focuses on honeybees, and she is "interested in how insects find their way in the world and in how social behavior is shaped by the environment" (http://www.bucknell.edu/majors-and-minors/biology/faculty-and-staff/elizabeth-capaldi-evans.html).
She reports that she is "happy to be able to pace her reading through such a varied set of topics this summer!" Here is her list:
"1) Right now, in preparation for the senior seminar that I am teaching in the fall semester (Advanced Topics in Animal Behavior ANBE 320), I'm reading Animal Weapons: The Evolution of Battle, by Douglas J. Emlen. This course has the subtitle of "the evolution of animal defenses" and serves as the major's Culminating Experience for animal behavior majors who will graduate with the class of 2016; I've learned a lot of cool science from this book and hope to incorporate it into some fun lectures for class. Hopefully, my future students are enjoying reading it, too. I've arranged for the author to Skype into my course on a few occasions this fall!
2) Like many Bucknellians, I have read The Good Food Revolution: Growing Healthy Food, People, and Communities by Will Allen and Charles Wilson in support of the first year reading program.  It's given me a lot of think about, especially as it relates to my own dietary choices and my research on an agriculturally important insect.
3) I'm also reading Nature's Compass: The Mystery of Animal Navigation by James L Gould and Carol Grant Gould which summarizes a lot of recent research on navigational abilities of animals and connects those behaviors to conservation efforts.
4) Fiction, old and new, and more fiction!
As a member of the local Feminist Fiction Reading Group, I've read Anna Karenina by Leo Tolstoy (which I had never read before – somehow I've skipped all Tolstoy before this summer!) in prep for our August meeting and will next tackle Oreo by Fran Ross for a future discussion.  While teaching my summer class in June, I loaded up my Kindle with a few other fiction selections, including The Museum of Extraordinary Things: A Novel by Alice Hoffman, Hidden in Paris by Corine Gantz, and Special Topics in Calamity Physics by Marisha Pessl.
5) a new/future hobby
I've got my eye on a few books about touring via bicycle, riding greenways, and bike-packing, so I'm hoping to squeeze in some time for them; I'd like to plan a cycle tour at some point in the indeterminate future.
6) Bucknell in London
I'm reading lots of chapters about London and the UK, in preparation for teaching Bucknell in London next spring.  Exciting times!"