Does this look familiar?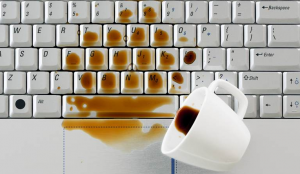 If this hasn't happened to you yet, it's likely going to happen to you in the future (you can substitute water, Gatorade, wine, beer, energy drinks . . . )
Here are the quick steps to follow to give your laptop the best chance of survival:
Turn it off and unplug it
Take out the the battery if you can
Unplug any cables, USB drives, etc.
Turn the computer on its side, or prop it up, to let the liquid drain out – mop up any excess
Let it dry for 3 days! Don't try to turn it on!
You can bring your laptop to the Tech Desk once you've turned it off – this is what we'll do.
Note that spills can cause damage that might not show up for days, weeks, or months – corrosion can get started that might affect the display, power, processor, wifi card, or any other component, so be prepared for further issues down the line. 
Best case scenario: don't spill anything on your laptop, and buy a keyboard protector to help in case you do!