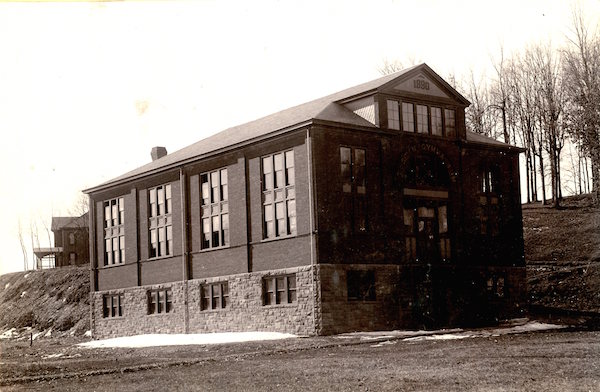 In the 1950s, Bucknell University formally established its university archives program with the mission to collect, preserve, and provide access to the University's historical records. One large element of the collection is a preservation of material relating to the multitude of historical figures that have molded the shape of the University. Understanding the history of the University is to better understand the stories of the men and women who contributed to its history.
One such figure is Francis Wayland Tustin, one of the earlier graduates of the University at Lewisburg (later renamed Bucknell University in 1886). Born in Philadelphia in 1834, he studied classics at an academy in the city and excelled at linguistics. He enrolled in the University in 1850, studying the Natural Sciences and Greek course.
Graduating in the top of his class in 1856, Tustin was hired by the as University as a tutor—the first University graduate to be hired for a faculty position. Tustin was also ordained as a Reverend in the Baptist Church—following in the strong Baptist presence of the University's founding and early years—and took on a large role as a religious figure in Lewisburg.
Tustin was eventually hired as an adjunct Professor of Languages and was promoted to Professor of Natural Sciences the following year in 1860. During his tenure at the College, he twice served as acting President in 1878 and 1886 and was a crucial figure during these financially tumultuous years. In 1879, after the school gained a graduate program and became a University, Tustin was awarded an honorary Ph. D. for his work as Professor of Latin and Greek.
Until his death on April 14, 1887, Tustin also served as the secretary to the faculty. J. Orin Oliphant, professor of history at Bucknell University and author of The Rise of Bucknell University, noted that as Secretary of the Faculty, Tustin "had a broad and liberal conception of what would be useful in a book of minutes of the faculty; consequentially, he recorded, besides actions taken by the faculty; numerous facts and happenings that are important in the history of the University…Accordingly, the record that President Tustin kept as secretary to the faculty is one of the most valuable sources of the history of the University."
Tustin's death at the age of 53 was a blow to the University community, which decided to honor his memory by naming the school's new gymnasium after him when it was completed in 1890.
The building became a crucial component of the University's infrastructure, especially during the rise of collegiate sports around the turn of the century. Even in death, Tustin, a man whose "whole life was devoted to this institution", continued to preside over the development of Bucknell University.