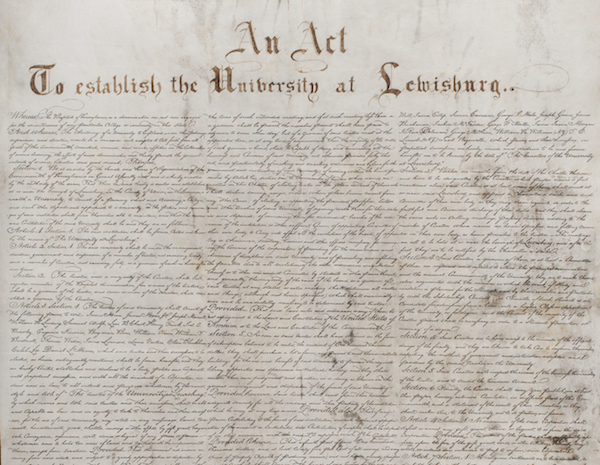 Charters are meant to sublimate human desire and purpose into the written word, transforming lofty goals into action. Looking at charters, we see the very essence of why things exist as they do: everything from the inalienable right to life and liberty and the allocation of personal property to the establishment and existence of a university in central Pennsylvania.
The charter of the University at Lewisburg (later renamed Bucknell University) is the why the University exists. Before the University was founded, it was the dream of area Baptists who desired to open "a Literary Institution…embracing High School for male pupils" and another for female students, as well as a College and theological institution. For their dream to be recognized, the Pennsylvania legislature needed to legitimatize the institution by issuing the charter and requiring the University to secure $100,000 in subscriptions or financial commitments from donors to purchase land to erect buildings and procure the "requisite library, apparatus, and specimens in natural history."
The charter was an agreement between those whose mission was of a higher order. Rereading the document, there is a certain ethos that we take granted for today: the liberating power of and right to an education as a means of cultivating a particular kind of society.
It is also evidence for just how substantial the barriers to founding the University were. More than just a place for higher education, the University was to draw resources and promote learning at every level, from primary school up to early precursors to graduate school. Rereading the document, it's clear how the school has both shaped and been shaped by local and national history—a lasting reminder of where we have come from and how far we have gone.
The original University Charter—written on vellum and hanging in the Reading Room of Special Collections/University Archives in the Bertrand Library —preserves the earliest history of the University and is considered one of the earliest records in the university archives collection. The original underwent conservation treatment a few years ago; the vellum was cleaned, the acidic gall ink used to write the text was neutralized, the folding smoothed, and tears to the vellum mended.
To share this important historical piece of Bucknell University's history with the campus, a facsimile of the original was created and is now hanging in the Traditional Reading Room of the Bertrand Library, making the document accessible to all. It is a persistent reminder of the University's heritage and our current role in keeping alive the dream of the University's founders.