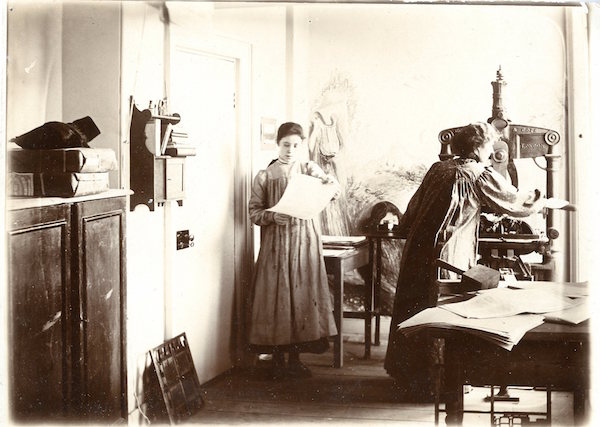 In 1976, the University received a donation of 35 letters and documents related to the literary and professional career of William Butler (W.B.) Yeats as well as his sisters, Elizabeth and Lily Yeats, and Yeats' friend, Lady Augusta Gregory. The collection was donated by LaFayette Butler, an industrialist and resident of Hazelton, Pennsylvania. After his death in 1975, Butler donated several other manuscript collections and first editions from his extensive Fountain Lawn Library, including the works of George Bernard Shaw and early folios of Shakespeare's plays.
The letters in the collection deal with a multitude of topics, ranging from discussions between Elizabeth and W.B. Yeats about the administration of the Dun Emer Press, where Yeats served as literary editor, to broader discussions about politics and culture in Ireland around the turn of the 20th century. The letters are a fascinating addition to the Bertrand Library's manuscript collection and provide some insight into some of the more tumultuous and important years in Irish literary history: around 1890 until 1920, the heyday of the Irish Literary Revival—a period of growing cultural identity revolving around literature, theatre, and the Irish language. The letters exchanged between W.B. Yeats and Lady Augusta Gregory is steeped in the passion and temperament of the Irish Literary Revival, a movement that both Lady Augusta Gregory and W.B. Yeats played a seminal part in cultivating.
Many of the letters in the collection written by W.B. Yeats letters to his sister, Elizabeth, deal with the management and direction of the Dun Elmer Press— later renamed Cuala Press—that Elizabeth established with the help of Evelyn Gleason in 1902 as a means to reviving the traditional craft of printing in Ireland. In the words of Evelyn Gleason, the Press sought to "find work for Irish hands in the making of beautiful things," giving more tangible power to the literary scene in Dublin around the turn of the 20th century.
W.B. Yeats' role in the Dun Emer Press was primary that of literary advisor and editor: approving and editing manuscripts that would later be printed by letter press for circulation in Europe. The presses first imprint was Yeats' own collection of poetry entitled In the Seven Woods, a reversion away from his previous fascination with Romantic imagery and style. His personal literary tastes helped propel the Press' work forward and are readily evident in his letters, which contain thoughtful prose of all subject matter.
The Yeats collection is an intriguing collection that provides the Bucknell community and researchers the opportunity to interact with original documents giving insight into the thoughts and actions of people important to Irish literary history. In preserving some of the more banal, managerial decisions of W.B. Yeats, the collection illuminates the deep passion that motivated his work within the literary community. The collection offers a unique opportunity for researchers and the Bucknell community to personally interact with this important, albeit small, piece of Irish literary history.