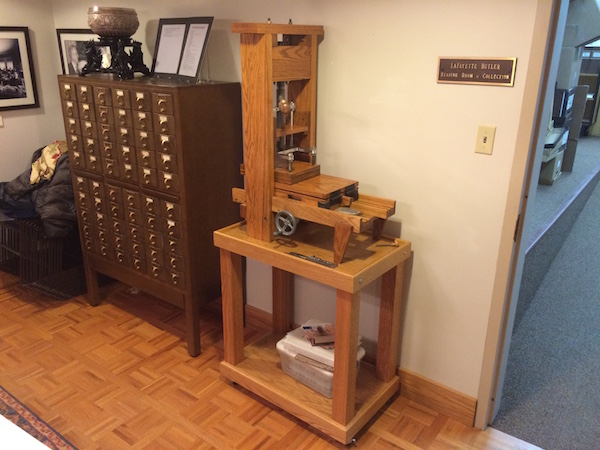 In 2000, Doris Dysinger, Former Curator of Special Collections/University Archives, suggested to the Mechanical Engineering Department that designing and building a working model of the Gutenberg printing press could make an interesting senior design project that would also aid in Special Collections/University Archives' instructional sessions about the early printing process.
Three mechanical engineering students were selected to research, design, and build a replica of Gutenberg press as their senior engineering project. The students were given nine months to complete the project with faculty guiding them along the way. The final product would be a replica of Gutenberg's press, but made on a significantly smaller scale with the printing covering only an area the size of an 8 ½" x 11" piece of paper. There would also be slight modifications to the original design reflecting improvements in the printing process over time.
The students began their initial research online, but later visited several different organizations in the United States that had working printing presses. The Smithsonian's American History Museum and The Press of Appletree Alley in Lewisburg were both instrumental in giving the students the opportunity to see the inner workings and the process of printing. By January 2001, the students began to construct the machinery that would constitute the press, and completed the final working model toward the end of spring semester in 2001.
The operation of the press is similar to the original 15th century Gutenberg press after which it is modeled, with some improvements implemented over the years. The metal type is laid inside a tray where it is securely fastened to prevent movement during the actual pressing. This process is very difficult, as the type needs to be laid backwards and upside down in the appropriate order for it to appear correctly on the paper.
Paper is then placed over the type and a piece of glass held in place by the base of the press is covered in ink and is laid over both, which are both then moved to the actual pressing mechanism itself. A large wooden handle is turned, which moves a screw that drives a wooden block down onto the paper, type, and glass. The even pressure applied during this process yields prints that can fairly accurately be replicated many times.
Currently, the working press is in the reading room of Special Collections/University Archives. The working model is one of the few tactile pieces in the department, giving students the opportunity to engage with and learn about historical printing processes.