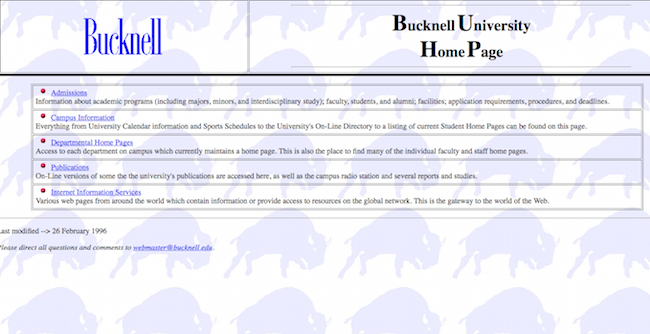 A major problem cultural repositories, such as the Bertrand Library's Special Collections/University Archives, face is capturing, preserving, and providing researchers with access to born digital content that is within its collecting mission. As websites, social media, and other forms of digital media become an increasingly important avenue for communication by the University, this content becomes just as much a part of the historical record of the University as more traditional forms of documentation—notably paper documents and printed photographs. In response to the growing need to preserve the University's history, in 2012, Special Collections/University Archives began to subscribe to the Internet Archives' Archive-It service that allows staff to crawl and capture portions of the Bucknell website that represents a snapshot of Bucknell's history as shown through its web pages.
The Internet Archive, a non-profit that was founded in 1996, is a pioneering "digital library" that comprehensively catalogs digital content—originally limited to websites, but now includes audio, video, texts, and software—all of which are publicly available to searchers. Archive-It was created in 2006 as a subscription-based service in response to many librarians and archivists across the country that wanted to help select digital content and preserve it in their own digital collections.
The Special Collections/University Archives staff profiles the web crawler to capture portions of the Bucknell web site on a scheduled basis, including its video, audio, and social media sites, such as Twitter and Facebook, to ensure that the content is preserved and accessible to researchers in the future. Captured is content from the actual Bucknell University homepage to department-specific websites and even Bucknell U's Facebook page, which is increasingly becoming important for reaching out to prospective and enrolled students. .
Other types of content that would have been preserved by the Special Collections/University Archives, including press releases from the Communications department and articles from the Bucknellian are also being collected—following a trend in recent years where access via the Internet is more prevalent than through its physical, printed counterpart. As many more students interact with the University online—where content is rapidly updating— providing accurate and timely snapshots becomes increasingly critical to researchers.
Looking through these collections online, it is evident that while we may be in a radical transformation in how information is disseminated, the underlying need to provide a historical record of the information itself has not changed. We interact with digital media every day, almost unaware of the way in which it contributes to the identity and direction of the University. Thankfully, we will be provided access to all of this information as we have in the past, in a manner that shares many more similarities than not.
Bucknell's Archive-It content is available here https://archive-it.org/collections/3239. For a more historical look at Bucknell's website captured by the Internet Archive's Wayback Machine go to https://archive.org/web/ and enter http://bucknell.edu.