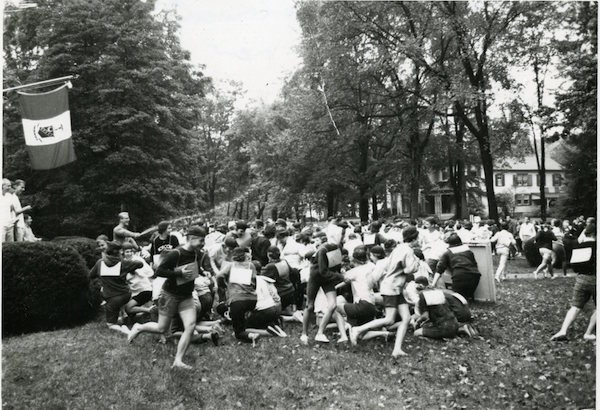 The beginning of the academic year has a different flavor depending on who you ask: to some, it is the beginning of the capstone on their Bucknell career; to others, it is just a continuation of what has happened to them the previous year. To a quarter of the school, however, it is a time of rapid change and disorientation—an introduction into an institution they will call home for the next four years.
The way that new students are introduced to university life has changed dramatically over the years. While we are now accustomed to a week of activities and events that each student gets to go through, in years past students would arrive and immediately begin classes. On top of that, there were strict traditions that each First Year student (formerly called freshman) was expected to abide by—created not by the university but passed down by decades worth of students before them.
Let's look at some of the Freshman rules for men and women:
Up until the early 1960's, freshmen at Bucknell were expected to adhere to a dress code for many months into their first year. With most of the attention focused on men, they had to wear black beanies—called "dinks"—at all times, as well as black dress socks and ties. The only exception was during Sunday at church. Any freshman caught deviating from this would be rounded up and sent to an upperclassman tribunal, which would levy punishments such as paddling or forcing the student to wear a three foot tall sign around his upper body. Women adhered to a similar dress code, wearing name tags and specific styles of clothing for the first few weeks.
The first week of classes was also known as "Hell Week" where the upperclassmen would periodically select groups of freshman and send them over to the Tustin field and nearby stadium for calisthenics and other random exercises. At the end of the week, each upperclassman would find a freshman, dress him up and parade him in the stadium to cap off the festivities.
One of the more outlandish traditions was the freshman-sophomore scrap that would take place each fall on the Tustin Fields (the present location of the Gateways). Each class would line up across the field with a line demarcating the middle of the field. At the sound of a pistol shot, they would run at each other with both classes trying to pull as many students across the line. Afterwards, the students would gather around and light a bonfire where the freshman would toss their dinks in, signifying their advancement within the school. This event was greatly celebrated by the upper classes, but it often resulted broken bones and other injuries, leading the administration to ban it in the late 1940's.
This tightly regulated student culture seems shockingly distant from our present day—resembling fraternity hazing more than orientation for first year students. freshman orientation. Yet it helped foster a strong sense of school spirit in the students, where each year would impart and uphold traditions that they themselves were held to just a few years before. The alumni that wrote of this period seemed to hold it in a high regard, acknowledging a kind of anachronistic perspective they have looking back on their life as a student.