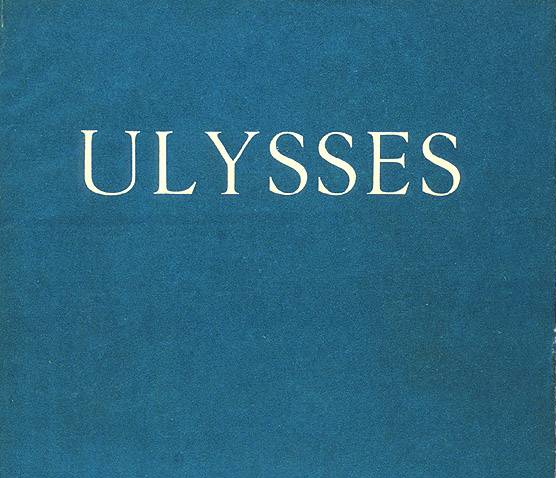 Many books in the Bertrand Library's Special Collections/University Archives' collections have storied histories about their publication, but few can compete with the turbulent history of Ulysses. The book was written by James Joyce, an exiled Irish author, over the course of four years in the second decade of the 20th century. It was serialized in the American literary magazine The Little Review—known for publishing surrealist and dada literature—from 1918 until 1921, when the material was deemed obscene and the Postal Service began seizing copies. Due to the complexity of the writing style and its fraught legal position, Ulysses wasn't published in full until 1922 by a small bookstore in Paris named Shakespeare and Company.
Following the obscenity ruling in the United States, finding copies of Ulysses was next to impossible. Many attempted to bring in copies printed in France, and a few people—notably the American writer and publisher Samuel Roth—even attempted to reproduce unauthorized copies of the work to satisfy Americans' desire to own a copy of the book. Roth was particularly ambitious and printed the most controversial segments of Ulysses—along with other explicit contemporary writers—in his magazine Two Worlds Monthly. He went as far as to publish a pirated version of Ulysses in full in the mid-1920s after Joyce won an injunction to stop illegally publishing his work in the magazine. Using his own copy of the 8th Shakespeare and Company edition, he published thousands of copies of the book, only relenting once he became shunned by the literary community as a pariah after Joyce's publisher garnered support for an international protest against him.
The Special Collections department owns a unique selection of Ulysses' editions that represent the complicated, but very interesting, publication of Joyce's work. addition to owning a copy of the first edition of Ulysses, the University also owns a copy of the pirated Roth version, as well as the first copy of Two Worlds Monthly, which features an illegal printing of the first episode of Ulysses.
In addition to the strange history of publication due to obscenity, Ulysses also suffered from numerous errors in each of its roughly 18 different editions. The first edition, printed in France in 1922, contains some two-thousand different errors—resulting from type-setting mistakes or misreading Joyce's manuscripts—yet is still considered to be the most "accurate" printing to date. Roth's pirated edition, however, is almost comical in its attempt to reproduce the original version. According to R. F. Robert's essay "Biographical Notes on James Joyce's 'Ulysses'", "many passages and phrases are omitted altogether" and some of Joyce's stylistic flares were replaced or completely thrown out. The final print also lacked any formal proofreading, so some passages are even printed upside down or in the wrong order.
The history of the publication of Ulysses is genuinely unparalleled in the course of modern fiction. The various editions of Joyce's work are represented in special collections and provide an opportunity to study how works of literature are dynamic creations, subject to the peculiarities of human action. In addition to being shaped by their authors, these works live on as testaments to how literature has always been something to struggle over, to think through, and how it can ultimately come to represent something much greater than the author intended.