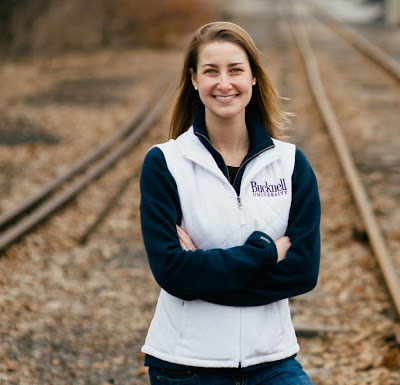 Bucknell Professor Michelle Beiler (Civil and Environmental Engineering) and her students Maddie Brown '18, and Greg Miller '18 submitted a digital story map for the national Transportation Research Board (TRB) Competition on Communicating the Connection between Transportation and Public Health.  Janine Glathar, GIS Specialist with Library and IT's Digital Pedagogy and Scholarship group, assisted Prof. Beiler's students with methodology and creating models to run their analyses.
From the thirty-one entries, they were one of six selected to present at the 2017 TRB Annual Meeting in Washington, D.C.  They will receive an award certificate at their presentation. The digital story map showcases the local Buffalo Valley Rail Trail as an example of trail facilities throughout the nation that can support recreational mobility as well as commuting.
Visit the digital story map which includes videos, text, photos, as well as a Rail-to-Trails Conservancy TrailLink map to find trails near you: Trails: Pathways to Improving Public Health!