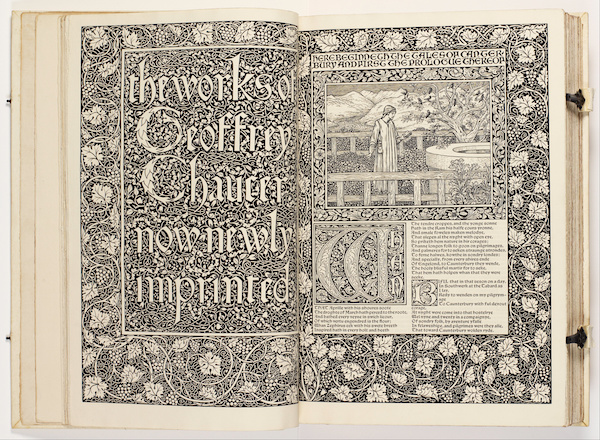 One of the central problems of modernity is an increasing isolation from the past. Due to technological, economic, and social upheaval, many of our connections to history become lost or tenuous. It is important, then, to try to cultivate a connection with the past and preserve not only the ideas and temperament of historical eras, but also the ways that people lived and understand how things were done.
A prolific 19th century writer, designer, and artist, William Morris was uniquely attuned to the advancement of the civilized world and the impact that it had on art, design, and, especially, the making of books. As an artist, Morris Much of his work recalled earlier eras—primarily Medieval—and it is clear throughout his illustrations, as well as his textile work, that the hand craftsmanship of the "old" captivated him much more than the new. This is particularly true of Morris' efforts to revolutionize the art of bookmaking and printing to lift it above a routine practice to a high art form.
It was in that vein that Morris established the Kelmscott Press: a company that, from 1881 until 1898, produced finely crafted limited editions using hand printing, typesetting, and original illustrations—all of which had been decimated by mechanization in the early industrial revolution. Morris was a fundamentalist in his work, wanting to return printing back to an art in the tradition of the pioneers in the late 15th century. From creating hand-made paper to designing spectacular ornamentation, he sought to recreate the look and feel of some of the first printed books in the style of Gutenberg or Nicholas Jensen, where one could sense the effort it took to both write the work, as well as create and decorate the object that housed it.
His most famous piece from this period was a complete collection of the work of Chaucer—the most well-known of the Middle English poets of the 14th century. Morris collected all of Chaucer's writing—including the Canterbury Tales, for which he is most famous, as well as lesser works—and created a limited edition of The Works of Geoffrey Chaucer, or what is known as the "Kelmscott Chaucer." Desiring complete control of the book design from beginning to end, Morris created his own typeface for the printing, now called Chaucer type, with wood cut illustrations created by artist Edward Burne-Jones, a friend of Morris'.
Each page features decorative borders designed by Morris, which had to be hand carved from metal and manually placed with the type. The beginning of each paragraph also includes capitals formed through hand-cutting wood blocks, which were placed on the press for printing—Morris ultimately designed dozens of different letters such that no page would feature the same design twice. Double-page spreads were also distributed throughout the work, which would feature several sections of text and an illustration to accompany the scene. 425 copies of the Kelmscott Chaucer were produced using handmade paper produced from a model of Bolognese paper made in 1473 and Special Collections/University Archives is fortunate to have an edition in its collection. Compared with older manuscripts and prints, one would just assume that this particular work was just better preserved than its predecessors. Such was the skill that Morris put into this edition that it can fool us into mistaking its age.
This deceptive element to this book hides greater value within it than if one were to just buy a copy of Chaucer today. One can sense the time and dedication that this edition took, the anachronistic feel that it must have had in its own time—let along in our own—and the importance that the artist must have felt in trying to preserve the historical tradition of print. Works like this remind us of the importance of not just literally preserving the past—preserving or restoring a historical work—but in preserving a body of knowledge: a technique, a way of interacting with the world, a form of creation.
To see a video about the Chelmscott Chaucer: