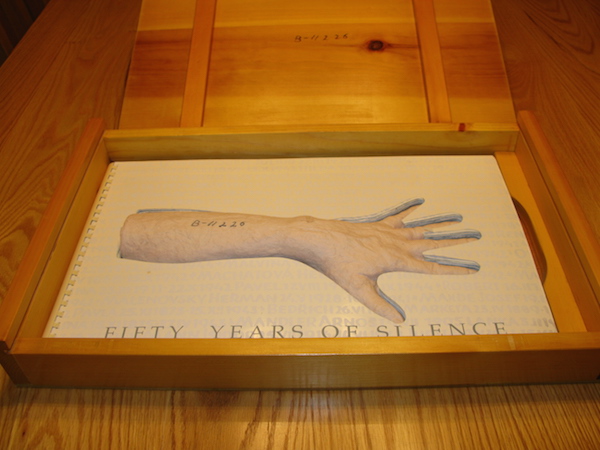 In 1974, several women, many of whom were deeply involved with the New York City arts scene, came together and created the Women's Studio Workshop (WSW), a visual arts studio and workshop just north of the city in Rosendale, New York. What they envisioned was a place where women could create and showcase their art, mitigating the constraints placed on women artists in the then male-dominated art world. Since the mid-70's, the WSW has grown significantly as an organization, offering courses on variety of art techniques, artist residency programs, and has produced hundreds of artists' books.
The production of artists' books has since become one of the most recognizable achievements of the WSW. Many of their artists-in-residence, as well as artists who seek publishing through the WSW, have created book art representing intensely personal topics to broad socio-political issues. These books come in a variety of mediums and formats, from layouts resembling traditional books to more mixed-media styles that are carefully formatted to relay some experience or feel the author wants to convey.
The Special Collections/University Archives has a nearly comprehensive set of the WSW's artists' books and hopes to complete its collection over the next few years. One of the more interesting works is a pair of artists' books produced in 1992 by Tatana Kellner, one of the founders of the WSW. Titled 71125, Fifty Years of Silence: Eva Kellner's Story and B 11226, Fifty Years of Silence: Eugene Kellner's Story, the books focus on Tatana's parents' stories of being sent to concentration camps during World War II. These limited edition books feature each parent's story handwritten entirely in Czech and accompanied with a corresponding printed English translation on the opposite page. The text is reproduced on transparent interleaved pages and printed over contemporary, historical, and photographic images of concentration camps as well family and childhood photographs of their life growing up in Czechoslovakia. Most striking is that the die cut pages with text and images fall around a flesh colored, handmade plaster cast of each parent's tattooed forearm.
Another interesting WSW artists' book held in Special Collections/University Archives is Deborah Frederick's Eight Breakfasts in 8 Pages. The book is a series of illustrated drawings that the artist created while in a series of cafes watching people eat breakfast over a period of a few days. The artist holds herself to several hours of drawing a day, in order practice and maintain her skills. The drawings have a caricature, quick-sketch feel to them and are very representative of a kind of public style of drawing that one very rarely gets to experience in a large format book such as this one. Eight Breakfasts is a clear example how practicing a craft can be a kind of art in itself, ready to be viewed and published as a certain kind of statement as opposed to a completely finished, polished piece.
The Women's Studio Workshop artists' books are one of those rare collections housed in the Special Collections/University Archives that is something to be read and held, as well as studied for both their design and narrative. The format of artists' books encourages a deep familiarity with the books, emphasized by the unique visual layout as well as the tactile experience that the author was trying to create through the format. The WSW books held in special collections can be located in the Bertrand Library catalog.