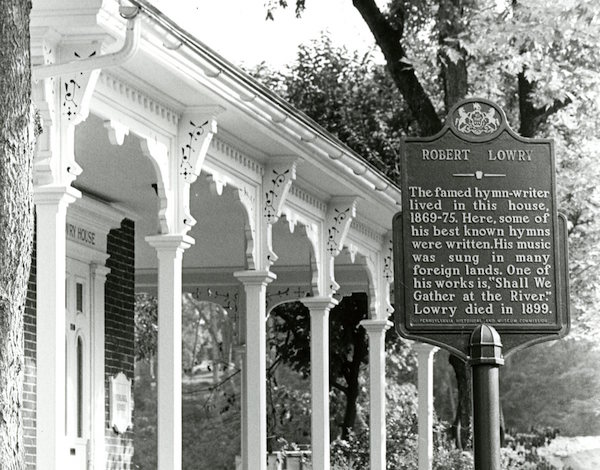 Despite Bucknell's size and its being tucked away in a small town in central Pennsylvania, there are still a host of famous graduates and faculty members that color its history. Robert Lowry, the famed Baptist minister and hymn-writer, was one such character—leaving an indelible mark on Bucknell University as well as the national religious psyche. As John Zeller '41 stated in the spring 1975 issue of Bucknell World, the alumni magazine, Lowry was "undoubtedly the most famous faculty member the University has ever had."
Lowry graduated from the University at Lewisburg (former name of Bucknell University) in 1854 as valedictorian of his class. While an undergraduate, Lowry served as secretary to the literary society, Theta Alpha, writing down debate topics and outcomes of debates, as well as the secretary for the Society for Moral and Religious Inquiry—the first non-academic student group on campus. The Society was a product of the missionary movement of the mid-1800s that sought to expand religious scholars' knowledge of other cultures in order to improve conversion rates at home and abroad. Lowry, with the help of faculty and other members, would prepare documents and lectures on many different topics and would help write religious periodicals to help improve awareness outside of the University
After graduation, Lowry left to serve as a pastor for several churches in Pennsylvania and upstate New York, returning in 1869—as many of the most talented graduated of the University did at that time—to become Professor of Rhetoric and Belle Lettres, a position that he held until 1875. During his six years teaching at the University at Lewisburg, Lowry also served as the pastor for Lewisburg's Baptist church—further solidifying the early ties that the University shared with the Baptists. During Lowry's tenure as pastor, he oversaw the construction of a new Baptist church downtown, which stands to this day. In addition to Lowry's national reputation as a hymn writer and his position as pastor of the Baptist church, Lowry was very active on campus as well and continued to help facilitate the student organizations Theta Alpha and the Society for Moral and Religious Inquiry.
During Lowry's stay in Lewisburg, he lived in what is now called the "Lowry House" on the corner of University Avenue and Loomis Street. A former farm that was later divided by the railroad that came through the town, the historic house was rented out to him and his family and served as his place of residence. It was from his office and his library in that house that Lowry composed over half the work he was to publish in his lifetime—collected in over five books of hymns. One of his most famous hymns, "I Need Thee Every Hour," was published in 1872 when Lowry was residing in Lewisburg.
Lowry, committed to many time-consuming projects, let alone his own writing, resigned from the University in 1875 to take time off and later resumed his work in the ministry. That same year, his colleagues at the University, seeing in him "a token of the esteem and confidence of the faculty," awarded Lowry an honorary Doctorate of Divinity. Lowry retired to Plainfield, New Jersey to continue to read and write, giving sermons and returning to do work with his alma mater when he had the time. Despite the breadth of time that separates us from the time of Lowry and his peers, his presence is still felt—from the Baptist church he helped erect in Lewisburg to the organizations he participated in as a student and mentored as a faculty member, as well as his lasting literary and religious legacy.