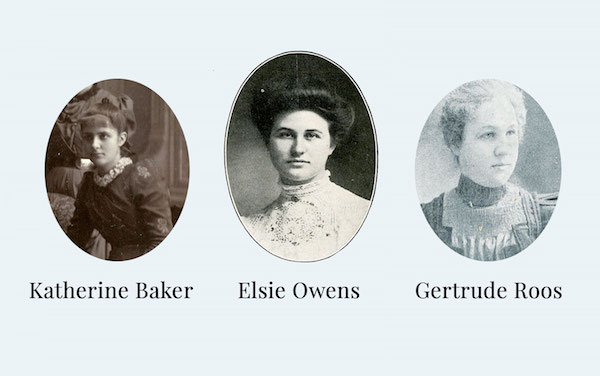 This blog has written several times about the impact that World War I had on the University and student life. As the centennial of the United States' involvement in World War I comes upon us this year, it is hard to understate how profoundly it affected the minds of faculty and students and how much it upended life on campus during and in years since. One facet that we have overlooked, until now, is the role that women played during the war. While they were not conscripted or took part in the military training on campus in the way that men were, many women were compelled to help out in whatever ways they could. Today, I am going to show the ways in which war touched their lives through the actions of three women that attended and were connected through Bucknell.
Katherine Baker—whose family has deep roots in Union County—was born in 1876 in a small house in downtown Lewisburg. Baker was educated at home and later at the Bucknell Female Institute before attending and graduating from Goucher College. Baker was known at Bucknell and at Goucher for her short fiction, much of which was published, including a few pieces appearing in the Atlantic Monthly. When she was in her mid-thirties, Baker decided to enroll in a service that brought American women to Europe to work as nurses treating soldiers wounded in battle. She was assigned to the 137th French Regiment, which was fighting along the western front and she served troops in the front lines of major battles late into the war.
For her action and involvement close to the battles which many nurses did not experience, Baker was made an honorary corporal in the regiment—almost unheard of for women at that time, let alone an American—and was later posthumously awarded France's prestigious military award, the Croix De Guerre. During the war, Baker was interviewed by the Bucknell Alumni Monthly, which stated that she was "decorated for bravery in action" and that she ultimately decided to go serve the war effort because "France is cutting herself to the bone" over the war in a way that most Americans were unaware of.
Baker's actions in Europe took a severe toll on her health. She returned to the United States to recuperate, but later returned with the American Red Cross in mid-1918. After the war, she moved to Saranac Lake in upstate New York to recover where she died in 1919 from health complications contracted during her first stint in France. Servicemen that she helped later founded an orphanage in the heart of Paris that was named in her honor.
Gertrude Roos, a graduate of the Bucknell Female Institute with the Class of 1900, was another figure that took on a prominent role during World War I.. She was born and raised in Williamsport and moved to Lewisburg in order to advance her education. After she graduated, Roos taught at Williamsport High School for over a decade before the war broke out and she enlisted as a nurse with the Young Woman's Christian Association (Y.M.C.A.). Unlike Baker, Roos served behind the front lines in towns that housed severely injured troops and in hospitals that were created to handle the immense volume of wounded soldiers.
Roos was the only woman attached to the French 89th Division and proudly wore their insignia, effectively serving in the French military during the war. She remained with the division after the armistice was signed—continuing to treat troops whose injuries persisted long after the war ended—and was even commended by American General John Pershing who reviewed the French troops after the war's end. Roos returned to teaching after she settled back in the United States.
Elsie Owens was another woman associated with Bucknell who served during World War I. Owens graduated from the University in 1908 and after the war broke out, was attached to the 116th American Expeditionary Force that fought in France. Owens' experience in the war mirrored that of Baker and Roos, and she even wrote back to her alma mater describing life during and after the war while she was in France. In a series of letters published in the May 27, 1919 issue of the Bucknellian, Owens described how she was getting on with life after the war and how she was "trying to see as much of the country as possible" before leaving France and returning home. Like Roos, she had stayed on after the war and continued to see to wounded soldiers that remained hospitalized by the injuries they sustained.
While they did not suffer the same trials that many men coming from Bucknell did, these women had a profound impact on the war effort—often at great personal cost to themselves—and their memory and writing about the time they spent abroad shows how deeply the war affected every facet of American life.