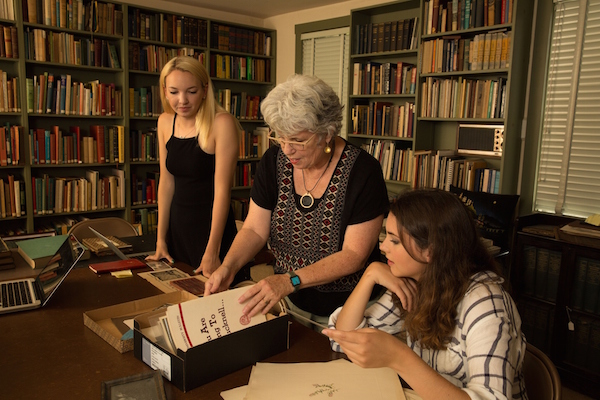 Through support from the Andrew W. Mellon Foundation, Library and Information Technology has provided student-faculty research project grants over the past three summers.  Each project is supported by members of Digital Pedagogy and Scholarship and Research Services.  One project undertaken this summer was by Professor Janice Mann (Art and Art History) and Rebecca Reeve '17, entitled The Packwood House Digital Archive of the Personal Papers, Ephemera and Photographs of Edith and John Fetherston.  
The Packwood House Museum, located in downtown Lewisburg, is the former home of Edith (Class of 1905) and John Fetherston, and has operated as a public museum since 1976.  In addition to the Fetherston's collections of art, furniture, and textiles, the museum is also home to their personal papers.  It was this collection that sparked the interest of Rebecca Reeve as a student in Professor Mann's class, The West Encounters the Rest, and led to the development of their summer research project.
Since their funds are limited, the museum welcomed the opportunity to partner with the Bucknell project to begin the digitization of the Fetherston's personal papers. Reeve began the summer by taking inventory of the archives' holdings, and created a digitization plan based on current research interests in the collection and its preservation needs.  After examining the collection, the team decided to begin with Mrs. Fetherston's postcard collection. Over the course of the summer, Reeve digitized and created metadata for over three hundred postcards.  Future students will have the opportunity to work on Edith and John's diaries, letters, and photographs.
Throughout the project, Professor Mann and Reeve received support from Digital Pedagogy and Scholarship and Research Services.  Carrie Johnston, former CLIR Postdoctoral Fellow, and Courtney Paddick, Librarian for the Arts and Humanities, were assigned as the main points of contact for the project.  Johnston managed the project and provided support and guidance on implementing the Omeka platform for the digital collection; Paddick provided direction on creating metadata for the digital objects using Dublin Core, and on processing and arranging the physical materials in the archive.  Additional support for the project came from Diane Jakacki, Digital Scholarship Coordinator, who assumed leadership on the Omeka efforts and customization of the public site, and from Deb Balducci, Digital Pedagogy Specialist, who gave the students instruction on photographing museum items.
Through separate funds, Nicole Adams '18 and Ariel Senackerib '17 also worked on complementary projects within the museum which are included in the Omeka site.  All three students presented at the Susquehanna Valley Undergraduate Research Symposium and presented with Professor Mann at the Bucknell University Digital Scholarship Conference.
Check out this video for more information about the project!