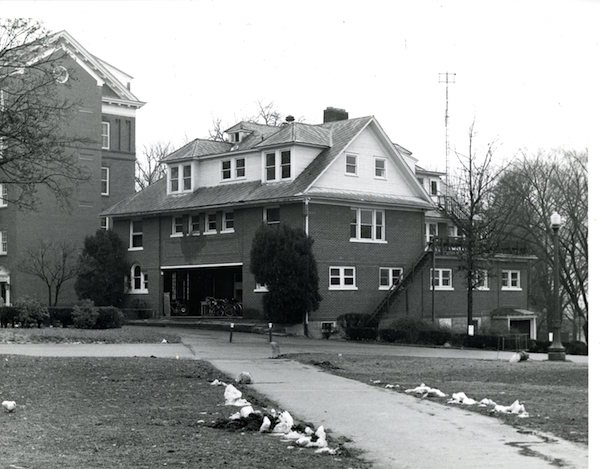 While much of Bucknell's campus today is under the ownership of the University, during much of the University's history, the campus was dotted with private farms, hotels, and restaurants that operated well within the present campus boundaries. The College Inn—a small restaurant and inn that was situated "on top of The Hill" next to where Trax Hall currently stands—is one such of these establishments that used to be a major player in Bucknell students' social lives.
The College Inn was founded and run by Guy Payne, who matriculated with the Bucknell Class of 1909. (Payne graduated with the Bucknell Class of 1915 as he was lacking an algebra requirement, but he was always firm that he graduated in 1909 with the class that he lived with while at the University). Payne was well known on campus for his eccentricity—an energetic young man who "never failed to tip his hat at co-eds," but was nevertheless remembered for his "Biblically salted invectives" on the evils of immorality and alcohol. His opinions often adorned the pages of Bucknell's student newspaper or were privately published by Payne in pamphlets that allowed him to expound his opinions regarding political or moral topics.
As a student, Guy Payne financed his education through multiple odd-jobs on campus, starting as a nighttime telephone operator, transitioning into the sandwich-making business during his final year at Bucknell—a venture that culminated into establishing a full-fledged restaurant, the College Inn, in 1908. Payne briefly left Lewisburg to work for the Santa Fe Railroad out of Kansas City, but returned to Lewisburg in 1915 where he bought a small wooden structure in the courtyard of the main student buildings next to the Carnegie Library and Trax Hall, the later built in 1907.
Payne quickly found success selling food, tobacco, and renting rooms to students—with the profits of tobacco sales, estimated at $500 yearly, transferred to President Harris and the University as part of an agreement between the institution and Payne's business. Payne was known for riding his horse, Peggy, around campus as his preferred means of transportation as well as cooking orders with one hand while petting his dog, Noble Bering, at his side.
The College Inn's success—and Payne's unique advertisements in The Bucknellian— garnered a lot of attention from local business owners who thought that his curried favor with students and the administration was a threat to their own establishments. Payne dismissed them with ease. Instead, Payne built a larger brick building on the same site and prominently displayed a sign, "Payne & Co.," and expanded his little College Inn to include several barber's chairs as well as a tailor and a launderer. At one point, the University's bookstore was associated with the College Inn. Informally, the place was referred to "Guybo's" and students from across campus would meet there to fraternize and be served by the colorful character of its owner.
In addition to his work at the College Inn, Payne was a well-known figure in the town's religious circles. He was actively involved with the Baptist Church in Lewisburg and was a principal figure in the YMCA, especially in Milton. Through the money Payne earned from the College Inn, he helped finance various religious programs and aided many financially strapped students through his generous charity programs. Payne retired from his business on December 31, 1960 and deeded the College Inn to the University with a life tenancy clause for him and his wife. Part of this agreement was that the University would establish a $50,000 endowment fund for the Bucknell University Christian Association. Payne died in 1962. The University continued to operate the College Inn with Mrs. Guy Payne as a resident above the Inn until it was permanently closed on August 30, 1971 and the building razed in January 1973.
In the early 1980s, to honor Guy Payne's 100th birthday and memories of the man and his inn, the Guy Payne Memorial was established by alumni during Reunion Weekend. The memorial includes a plaque and benches at the former site of the College Inn marking an area where many alumni fondly remember their student days hanging out at "Guybo's."