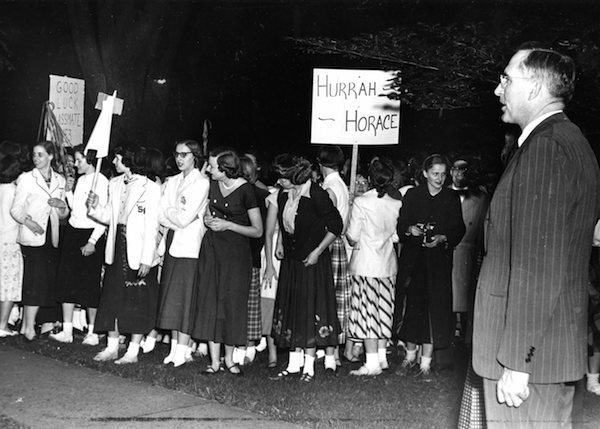 Over the hundred and seventy one years of Bucknell's history, the University has had seventeen presidents. Each one has had a unique background—some in academia, some in the Baptist church, and many as administrators of other schools. Few, however, had the background that could rival the eclectic resume of Horace Hildreth, ninth President of Bucknell from 1949 until 1953.
Hildreth had little experience in academia—nothing more than what he experienced as an undergraduate at Bowdoin College and at Harvard as a law student. His early career was almost entirely dominated by his experience in Maine politics, rising through the ranks of the state legislature, eventually becoming Governor in 1944. Following a defeat in the Republican primary for a U.S. Senate seat, he retired from elected political life.
At the Board of Trustees' request, in 1949, for this little-known Maine politician to become President of University to which he bore no relation seems as odd today as it must have then. Hildreth himself seemed to think so, telling the Boston Sunday Post that he had "no fixed ideas, no plans of changing the curricula" and that his natural course would be one of "observation." As to why he took the position? It naturally "represents a challenge," noting that he had no experience being a Governor before he was one and he would approach the Presidency of Bucknell in the same way.
Hildreth was largely brought in because of his outsider status. The Board unanimously voted for him, noting his experience in public affairs, his earnestness, and an uncanny ability to completely devote himself to a single line of work.
While Hildreth's tenure at Bucknell was only a short four years, he was quickly adopted by the students and faculty and became a beloved figure on campus. He oversaw a tumultuous time in the history of universities across the country—the decade immediately following World War II saw a dramatic increase in university enrollment, spurring tremendous growth in institutions as students and federal money flooded in. He oversaw one of the earliest fundraising campaigns in the university's history, focusing on raising money from alumni rather than the large philanthropic sources that normally contributed to universities and colleges.
Hildreth also oversaw a campaign to continue building on campus; his most notable effort was the construction of a new library in 1950 with the financial support of Ellen Clark Bertrand, who had recently been named a Trustee. Other projects included new dormitories for men and women, finalizing construction on a new wing in the Vaughan literature building, renovations to the Davis gym, and the establishment of a campus chapel.
In 1953, Hildreth was chosen by President Eisenhower to become the United States Ambassador to Pakistan, a post that he held for four years between 1953 and 1957. His leaving was notably marked on campus, with many students and faculty protesting his going. The Board of Trustees reluctantly accepted his resignation and as a token of Hildreth's gratitude, he circulated a letter stating that he would donate the entirety of the salary he earned as President to the University. After his brief diplomatic service, he spent the remainder of his life working in his hometown of Portland, Maine.