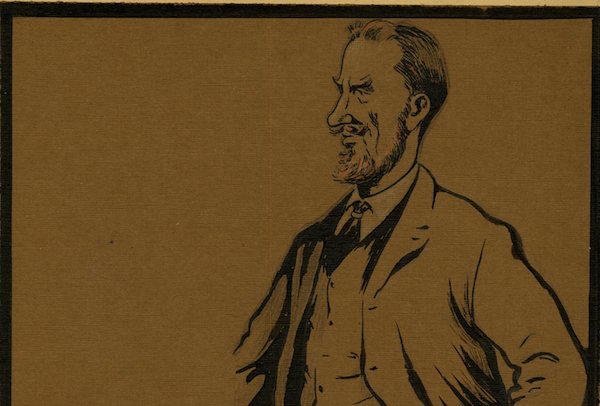 George Bernard Shaw, an Irish writer and playwright, was one of the most prolific figures in 19th and 20th centuries. . Born 1856 in Dublin, he quickly gained a small literary following in Europe in his thirties after finding little success ghostwriting criticism after he left school. Having tried his hand at fiction with little success, Shaw later turned to playwriting, from which he became immensely famous. Shaw's later life was marked by his unique public persona—often with contentious-flirtation with socialism and communism and fringe economic and political theories in his day.
LaFayette Butler—a bibliophile and industrialist from Hazelton, PA who we have profiled in a prior blog post for his donation of a collection of materials related to William Butler Yeats,— also donated a substantial collection of Shaw material to Special Collections/University Archives. The variety of material in the Shaw collections is fascinating, encompassing a great deal of his literary and critical work from 1882 until his death in 1950 at age ninety-four. In addition to many of his published works, the collection features proofs and manuscripts from some of Shaw's more famous plays.
The bulk of the Shaw collection includes his correspondence, much of which touches on Shaw's thought processes as he was writing, as well as intimate details of his life and his relationships with fellow writers. In them Shaw emerges as a tireless literary critic who found himself lost in the very world of art and culture that he was trying to understand through his criticism and his plays. The letters paint a stark portrait of a man struggling against the prevailing currents of culture, only to find himself, decades later, as a kind of spokesman for the era: looked to for opinions not only on art but on politics, economics, and history.
Two particular groups of letters are of special interest. The collection hosts much of Shaw's correspondence during the years in which he wrote some of his most famous plays, including Pygmalion and Caesar and Cleopatra. They touch on almost every aspect of his life during that trying time, from his ardent vegetarianism and his refusal to preview the manuscripts of other writers to requests to have Shaw speak about literature and art at universities and literary societies. The volume of the correspondence that Shaw amassed is staggering—and it serves a testament to the stature of the writer in his era, one that seems remote to us now.
Comprised of over 400 separate items, the Shaw collection does not limit itself to the purely literary. Numerous photographs and drawings of Shaw or characters that he made famous fill the collection. Much of Shaw's correspondence deals with personal issues that arose during his writing career, including advice Shaw doled to younger writers who sought advice from him later in his life. LaFayette Butler's collection of Shaw materials is coupled with a second donated collection, given to the Bertrand Library by William Chase in 1967, which contains many more of Shaw's papers and letters as well as documents that were circulated by the Shaw Society of America. Together they present a unique portrait of the man—one that is as varied as the writing that he produced.