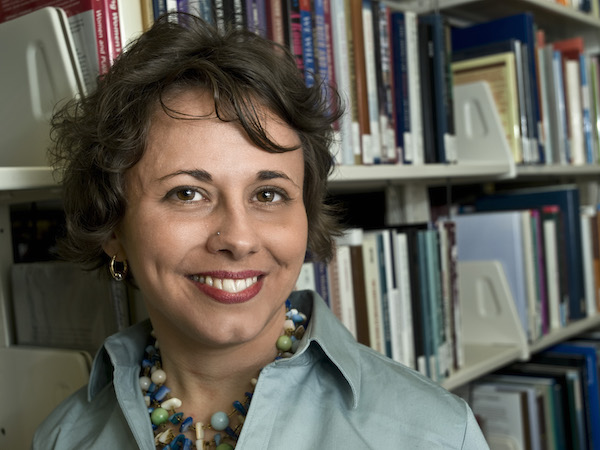 "What character would you like to add to the cast of PBS's television drama, Downton Abbey?" Visiting Assistant Professor Erica Delsandro '02, M'05 (Women's and Gender Studies) posed this question to students in her Fall 2016 course, "The Literature of Downton Abbey," and challenged them to create a realistic and relevant character whose background and plotline fit within the parameters of the popular TV series. Delsandro developed the assignment with the goal of cultivating in her students what she termed "historical empathy: the marriage of an analytical and emotional understanding of a historically-contingent person, event, or position." Through the use of course texts, novels, and secondary sources, students centered their characters vis-a-vis the overarching plot of Downton Abbey, other characters in the series, and the cultural and historical context of the period.
Librarians Jason Snyder '95, M'98 and Carrie Pirmann guided the class through an exercise with an imagined character, and modeled the process of identifying key researchable topics that were pertinent to creating an accurate profile. They worked with Delsandro to craft an in-class exercise which encouraged students to explore both literary and historical resources that could be used to inform the development of their character profile.
Snyder says that collaborating with Delsandro and Pirmann on this project was very rewarding, and that "assignments like this really bring the research process alive for students.  By using both primary and secondary sources to create something both contextual and novel, the students gain a much greater understanding of how exciting literary and historical research can be."
Associate Professor of History David Del Testa's course, "Introduction to Historical GIS," enables students to hone their skills as historians while at the same time learning ArcGIS. The students' culminating assignment consisted of a substantive research-based project centered on the San Francisco Bay Area from 1960-1990, in which they incorporated both historical and spatial analysis facilitated by ArcGIS. The topics chosen by students were often wide-ranging, and have included: an examination of the Black Panther Party nutrition programs and their impact on community health; the impact of sports arena construction on neighborhoods; the development of parks and their relationship to property values; and the relationship between punk music venues and property values in San Francisco.
Work on the projects was scaffolded throughout the semester, and supported by a partnership with librarians Nancy Frazier and Carrie Pirmann, who lead three information literacy sessions for the class. Through these sessions, students were introduced to a variety of resources, including newspapers, historical texts, and data sets from the Census. Del Testa also required his students keep research journals, in which they recorded information about sources they had located and possible next steps in the research process.
Frazier remarked on her involvement in Del Testa's course, "David excels at transforming his classroom into an active learning environment, where students are guided in developing the skills of thoughtful historians. Their use of GIS combined with historical research enables them to make new connections to the material that would not be possible in a traditional research paper."