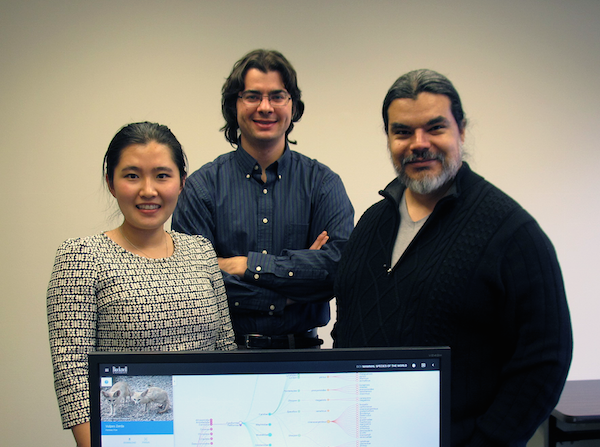 "The dynamic, rapidly changing state of mammalian taxonomy, documented by an enormous literature, long hampered the compilation of a detailed, complete world checklist." So begins the introduction to the third edition of Mammal Species of the World (MSW), co-edited by Bucknell Professor of Biology DeeAnn Reeder and Don E. Wilson (Smithsonian Institution). The work is the foremost international reference for identifying and verifying recognized names and taxonomies of some 5,400 mammals. The print publication is widely used by biologists and students throughout the world. The MSW also exists in digital format: Bucknell has hosted a searchable online version of the reference work for almost a decade (https://www.departments.bucknell.edu/biology/resources/msw3/).
In 2014, for the forthcoming fourth edition of the work, edited by Reeder and Kristofer Helgen, Reeder approached Library and Information Technology to redesign the website and database. The online fourth edition of the MSW is notable within Bucknell for being the first to bring together both Enterprise Systems Development and Digital Pedagogy & Scholarship on a project of this magnitude. Library and Information Technology staff members Leo Botinelly, Luyang Ren, Dan Mancusi, Emily Sherwood, and Diane Jakacki have led a design team to partner with Reeder and create a dynamic new editorial and publication application that will accompany the printed fourth edition. Botinelly and Ren created a platform built upon the Bucknell application framework, based on open source components, which supports the presentation of information in both text and dynamic visualizations. The new MSW allows Reeder's thirty expert collaborators to contribute to the edition by adding to, augmenting, and correcting existing information about individual species. The application produces visualizations of mammalian taxonomies that are automatically adjusted as contributors input new content. The ability to update the information in the reference is key, as taxonomies change and new species are discovered.
One particular challenge for the team was to ensure that this type of collaboration would be controlled by Reeder as lead editor, and involved implementation of a complex permissions and publication structure. In the completed version, Reeder will have final editorial say over submitted content. The collaborators are currently testing the editorial interface in anticipation of a 2017 publication. Reeder hopes that in future years MSW Online will be robust enough to not only augment but perhaps to replace the print version. The data set is available for download, making it a truly open resource, and because the interface allows batch updates there will be no need to wait for subsequent editions. The MSW will continue to grow as users contribute to it. When published, MSW Online will offer a unique digital text used by scholars and students all over the world.