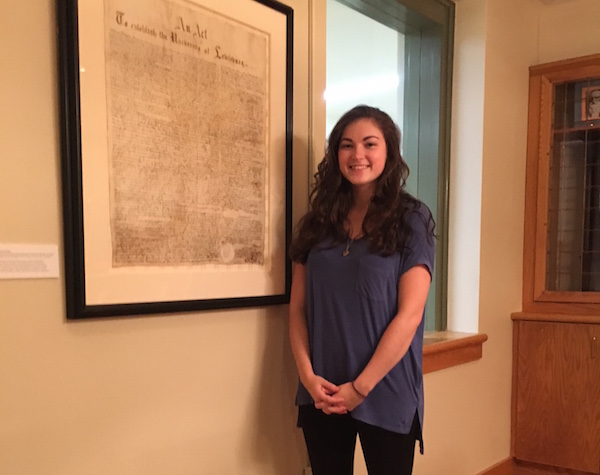 Hello everyone, my name is Haley Stodart. I am a junior at Bucknell University and am your new Special Collections/University Archives blogger! Before you read my fun and historical blog post every week for this fall semester, I would like to tell you a little more about myself.
I am currently 20 years old and from Houtzdale, Pennsylvania, a quaint little town about an hour past State College.  I am currently double majoring in History and Classics & Ancient Mediterranean Studies, and I am very excited to pursue these majors further when I study abroad in Athens, Greece this upcoming spring. On campus, I am involved in Relay for Life, Classics Club, Club Volleyball, and I am a member of the Alpha Delta Pi sorority.If you ever need to find me, because you are so interested in the blog topic of the week and wish to know more, you can find me on Lower Level 1 of the Ellen Clarke Bertrand Library in the Special Collections/University Archives. Since this is the place I will be inhabiting for the rest of the semester, it seems only right that my first blog post should be on Ellen Clarke Bertrand herself. Look for it soon!
I look forward to writing for you all, and I hope you enjoy all the history our beloved university and information about what Special Collections/University Archives has to offer!