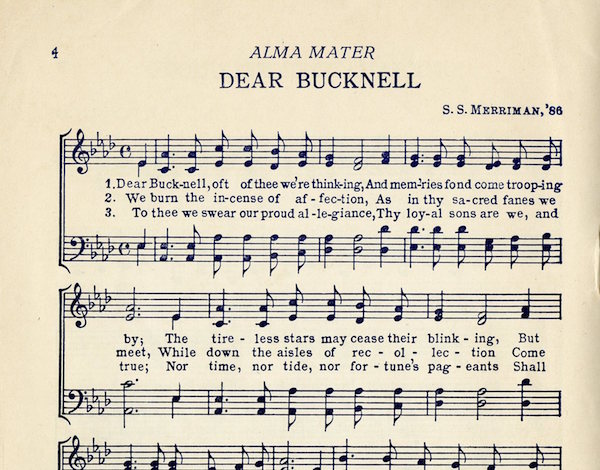 One of the first traditions new Bucknellians experience is the singing of our very own alma mater, "Dear Bucknell." For a time in its history, Bucknell did not have an official alma mater, but many tunes were composed and worded by alumni and friends to honor their University. These tunes were often compiled into "Bucknell song books," published by Bucknell classes and alumni and bringing together existing songs and original scores written specifically for Bucknell. Some examples are "Orange and Blue" with words by Mary Bartol, Class of 1894, and "A Song for the Orange and Blue" written by the 1854 Bucknell graduate and well-known hymn writer, Robert Lowry. Both songs were published in the Class of 1897's "College Songs" along with "Dear Bucknell," composed by Samuel Sears Merriman, an alum from the Class of 1896, whose composition was adopted as Bucknell's official alma mater and remains as such today.
While planning the publication of the Class of 1897 "College Songs" book, the editors contacted Samuel Sears Merriman, well known for his music composition abilities, asking that he contribute "two or three numbers." At the time, Merriman, a pastor at Olivet Baptist Church in New Jersey, had a visitor, Enoch Perrine, Professor of English and university librarian at Bucknell, who encouraged Merriman to write a song that could be adopted as Bucknell's alma mater. Reverand Merriman took the challenge proposed to him and described composing "Dear Bucknell" after the "tender melody of German student origin" with an easy voice range.
Celebrated as a treasured Bucknell custom, "Dear Bucknell" was, and is still, a part Bucknell's traditions and history. Aside from its role in special events, the Alma Mater has been used in less pleasant circumstances, including during a time that upperclassman could demand Bucknell's freshman students (now called First Year students) to memorize the Alma Mater and sing it on command or pay the consequences. (Stated in the 1951/1952 student handbook: "All freshmen shall learn the Alma Mater, Go Bisons, and Come Bucknell Warriors, and be able to sing them from 4:30 to 6:00 p.m. on week-days, 1:00 to 6:00 p.m. on Saturdays and at all school functions.")
While learning the Alma Mater is not regimented to such a level today, "Dear Bucknell" is continually admired and sung with pride. "Dear Bucknell," was created because Professor Perrine believed Samuel Merriman could do it, so he did. As students recognize the spirit of their University through singing its Alma Mater, they commemorate Bucknell's tradition in a way that forever connects Bucknellians of today with those of yesterday.