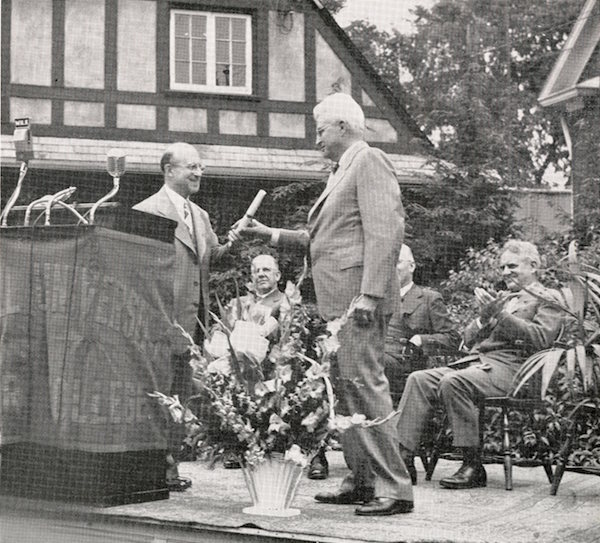 Before Wilkes College, now Wilkes University, in Wilkes-Barre, PA had become the Colonels, they were the Bucknell Bison. In early March of 1930, Bucknell was approached by school principals and community leaders in the Wyoming Valley area to establish a junior college in Wilkes-Barre. The Wyoming Valley was the only area of its size in Pennsylvania without a local college. During the Great Depression, many students yearned for an education beyond high school, but were unable to attend college locally. Bucknell agreed with the proposal and provided the charter, endowment, equipment, faculty, and administration staff to create the Bucknell University Junior College. In September of 1933, Bucknell University Junior College opened its doors with a class of 193 students and the mission, "to give students within commuting distance an opportunity to complete the first two years of a college course while living at home."
In its first four years, 140 students from Bucknell University Junior College entered over 35 different four year colleges after graduation. The lower cost of completing their first two years of a college education allowed the students to find adequate financial support to complete a four-year undergraduate's degree. Bucknell Junior College offered the same educational opportunities that Bucknell University offered its students in Lewisburg. Initially, there was no cost to the citizens of the Wyoming Valley region to support Bucknell Junior College, but as the program extended its programs and enrollment, the college began fundraising efforts to sustain its future, hoping to raise $25-30,000 locally. Substantial local donations were offered by three community members: Admiral and Mrs. Harold R. Stark and Mrs. John N. Conyngham, who gifted their two beautiful homes on South River Street in response to the need for more student housing.
Once the proper funds and resources were obtained, Bucknell hoped that local citizens of Wilkes-Barre would assume full responsibility for further development of the Junior College. To establish Bucknell University Junior College as college independent from Bucknell, the Pennsylvania State Government required $500,000 to charter it as an institution. The Wyoming Valley community began fundraising in the early 1940's, knowing that after the end of World War II, a four year college in their community would be necessary as veterans sought education under the G.I. Bill. On June 4th, 1947, a charter establishing Wilkes College, now Wilkes University, was officially granted by the Pennsylvania State Government making it an independent, four-year college.
On June 26th, 1947 (Wilkes College Charter Day), the President of Bucknell University, Herbert L. Spencer, transferred to the Wilkes College Board of Trustees nearly $1,000,000 in assets to assist the college's establishment as an independent institution. Arnaud C. Marts, who served as Bucknell's president prior to President Spencer, spoke with these words at the event, "May Wilkes College ever inspire and teach its sons and daughters to live like the children of God, in a brotherhood of intelligent, unselfish men and woman of all lands. Farewell to Bucknell Junior College of yesterday! Hail to Wilkes College of today and tomorrow!"