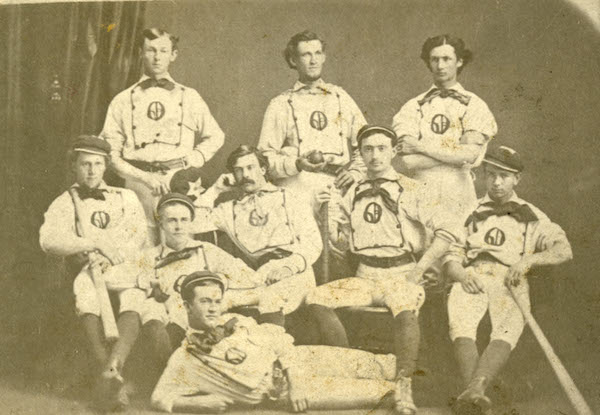 America's favorite pastime was not a favorite in Lewisburg when it first arrived in the 1860's. Bucknell's President Loomis banned games from being played off campus, and tried to forbid baseball all together at one point, but the game became one of the first sports to start at Bucknell University regardless. Despite the resentment from our administration towards the sport, it continued to thrive in the United States, changing as the years passed, and gained popularity here in Lewisburg as well.
Bucknell's first team was called "The Olympians." Playing on Loomis Field, the current location of the Gateway Apartments, the team competed with smaller balls, longer bats, and underhand pitches. While these may have been baseball norms at the time, in 1877, the pitches were changed to over hand, and the rest evolved alongside. The team also received little financial aid, having to provide much equipment themselves. Despite this setback, the Olympians only lost a single game in four years. They played local teams, such as Danville and Sunbury until the 1880's, when Bucknell joined an intercollegiate league, with the original circuit being Gettysburg, Dickinson, Penn State, and Bucknell.
Arguably, the most famous Bucknell baseball player was Christy Mathewson. A member of a class of 1902, Mathewson was a four sport athlete, with his main talents being in football and baseball. He never officially graduated, but joined the New York Giants in 1900, where he became one of the most renowned pitchers in all of baseball. He pitched a three game shutout in the 1905 World Series, where the Giants would eventually take the win. He retired in 1916 at the age of 35, and managed the Cincinnati Reds until 1918, when he decided to enter the service. Returning to baseball in 1923, he was President of the Boston Braves National League Baseball until his passing on Oct. 7th, 1925. During his funeral in Lewisburg, the stores downtown were closed, and a Bucknell football game was delayed out of respect for "Matty." He was laid to rest in Lewisburg Cemetery, and is honored by Bucknell's Memorial Gateway or "Christy's Gate" and the football stadium.
Another Bucknellian to join the majors was Harry "Moose" McCormick. A member of the class of 1904, he, like Christy Mathewson, did not graduate, but joined Jersey City in 1903, and later the New York Giants in 1904. Moose McCormick is remembered as the man who created the role of the pinch hitter in professional baseball. He retired in 1913, and then joined the armed forces for World War I. He returned to Bucknell to coach the baseball and basketball teams in 1923, but left in 1925 to coach the baseball team at West Point. He returned to Bucknell again from 1947-'51, when he was the Director of Veterans' Housing at the University. He passed away on July 9th, 1962 at his home in Lewisburg.
Christy Mathewson, Moose McCormick, and other members of Bucknell baseball are part of the tradition of Bucknell student-athletes. Christy Mathewson said of his education, "A steel arm is desirable, the good eye is even more desirable, but, without the little filling of gray matter that is popularly supposed to inhabit the skull, a pitcher might just as well pack his suit-case and go back to the quaint little village where he was first discovered."