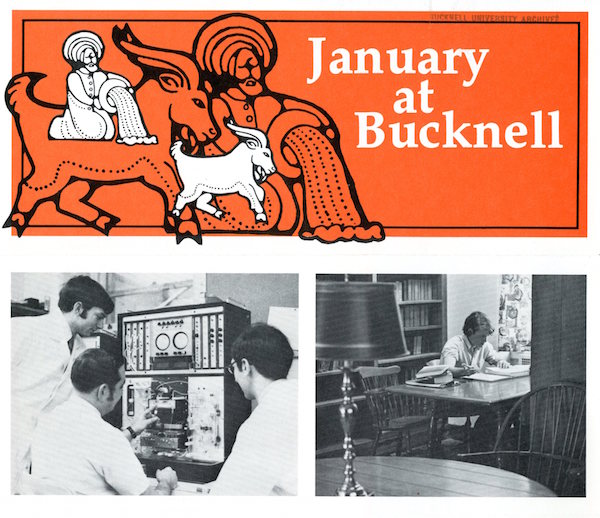 For most students, winter break in January is an opportunity to escape academics for a short time. However, on November 6, 1968, Bucknell began encouraging students to remain on campus in January to participate in a new program, the January Program, or as it was commonly known, the Jan Plan.
The Jan Plan was a voluntary, non-academic credit, month-long program where Bucknell students could define the direction of their educational experience by participating in creative and scholarly projects of their own choosing. The objectives of the program were to increase innovation and experimentation, foster independence through opportunities for independent study, and encourage Bucknell students to take an active, positive role in their learning. By choosing to participate, students created a range of opportunities for themselves, including in depth studies of a topic and work experiences related to their major or career goals.
Faculty members sponsored projects based on various topics or majors from which students could choose. Students who created their own project needed faculty sponsorship to pursue it. Some projects ranged from and "English Teacher Aid" and "Health Management" training to "January in the USSR." Students also had the option to do an intersession program at another school. At the end of January, Students were evaluated by their faculty sponsor on whether their program achievements were satisfactory or not. If deemed acceptable, the student's program success would be placed on their record.
The cost of participating in the program on Bucknell's campus included only boarding fees, which, at the time were $70, with an annual increase. If a student chose to partake in an off-campus January program, the cost increased.
The rising cost and a lack of academic credit caused the Jan Plan program to suffer. For many students, winter break was an opportunity to work and earn money. Paying to participate in a non-academic credit bearing program began to discourage Bucknell students' voluntary participation. A Bucknell parent said, "As a parent of an ambitious student, I wonder if they wouldn't profit more from a compulsory [mandatory, credit earning] on-campus program for special learning projects to fit their interest. There is time enough during the summer vacation period to get involved in the community." While action toward making the program mandatory and credit earning was mentioned, the University chose to retain the Jan Plan's original voluntary, non-credit nature.
Today, the Jan Plan differs greatly in relation to its 20th century predecessor. It no longer provides opportunities in various fields of interest, but focuses solely on providing students entering the medical field a chance to observe at local hospitals. Bucknell now partners with Geisinger Medical Center, Evangelical Community Hospital, The Rothman Institute, and Susquehanna Health, allowing up to 20 students each January to observe for 8-10 days. While the Jan Plan has a different focus in 2017 compared to its original intent in 1968, the program has retained its voluntary quality with the goal of allowing students to define the directions of their own education through an engaging experience.