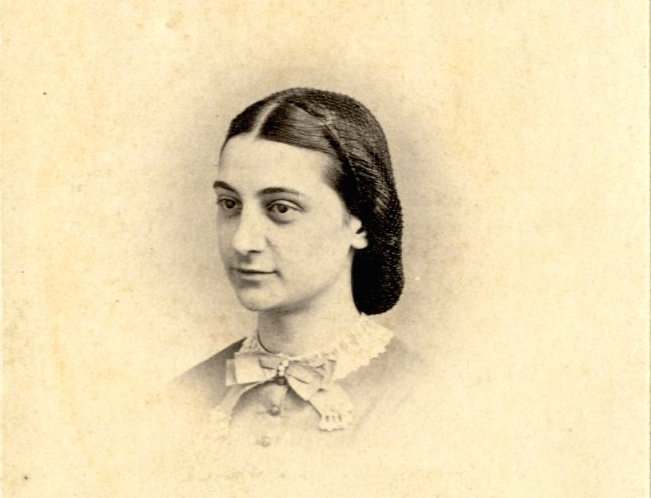 Did you know you can find a diary in the Special Collections/University Archives with a first-hand account of life in Lewisburg during the Civil War? This diary belonged to Sarah Rebecca Meixell, a Lewisburg resident born on July 12, 1844 and an 1860 graduate from the Lewisburg Female Institute.
The diary presents vibrant details of Sarah's life during the critical years of the Civil War and gives the reader a personal perspective on important events during that time. Sarah's entry dated April 10, 1865: "This morning the news came that the Rebel General Lee had surrendered his army and such a time of rejoicing I am sure this town has never seen… Flags [of] all sizes and descriptions were displayed everywhere this aft'n. At 4 ½ all the bells were rung for almost an hour and the firing of anvels has not ceased since, now bonfires…martial music, and noise and racket of every description." This joy was soon turned to sorrow; on April 15th: "The terrible news came that President Lincoln had been assassinated last evening while sitting in his private box at Fords Theater. It has crushed us…Never in any nation's history have so many tears and so much true mourning bear given to any man." Besides documenting the communal grief over President Lincoln's assassination, Sarah writes about attending funerals for fallen soldiers, receiving and writing letters to soldiers, and sewing clothes to send to the men at war.
Sarah's diary also gives the reader an understanding of the life of a young woman her age and time. She performed daily chores to help manage her home, such as sewing, errands, and housework. Sarah was active in Lewisburg's Baptist Church, noting that she attended choir practice, Bible study, and prayer meetings. If not helping at the house or in her church, Sarah spent time up on "The Hill," which references the University at Lewisburg, later named Bucknell University. As an unmarried, upper middle class young woman, Sarah enjoyed leisure time activities as well, such as shopping, horseback riding, and taking naps. She spent much time with friends, many of whom were associated with the University at Lewisburg, as graduates, students, or faculty. Sarah also traveled with her family. In February 1866, during a trip to Washington D.C., Sarah notes in her diary, "I [Sarah] was introduced and shook hands with President Johnson."
Sarah Meixell passed away on Dec. 27, 1930 at age of 86 in California. Her son brought her back to be buried in Lewisburg, where she was laid to rest on January 3rd. Sarah's diary in the Special Collection/University Archives offers insight into her life, local activities, and represents yet another perspective of Bucknell's history through the eyes of a female graduate.