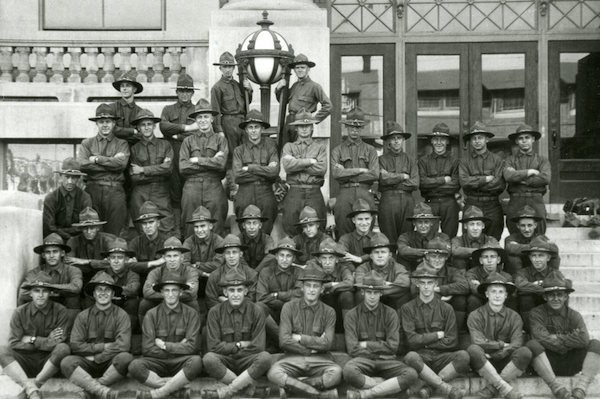 "Goodbye everybody I'm off to fight the foe
Uncle Sammy is calling me so I must go
Gee I'm feeling fine don't you wish that you were me?
For I'm sailing tomorrow over the deep blue sea."
("I Don't Know Where I'm Going, But I'm On My Way"
– 1917, http://www.halcyondaysmusic.com/ww1music.htm)
In early May of 1917, just a month after the United States officially entered World War I, the French War Commission came to Washington D.C. and met with the Surgeon General, William Gorgas. Gorgas asked the commission how the United States Medical Department could he France.  The answer he received was to take responsibility of caring for the wounded of the French Armies at the front. It was then that Gorgas authorized with the Secretary of War the organization of the United States Army Ambulance Service (U.S.A.A.S.). Only a month later, a group of brave Bucknell students joined the U.S.A.A.S as units 524 and 525.
Under the leadership of Alex Chalfont, '19, who contacted the American Field Service, fifty Bucknellians left their studies to enlist in the ambulance service. Each Ambulance Unit was supposed to have 36 men, but as Bucknell alumnus and a member of unit 525 Veteran John B. Vanderbilt stated, "We had too many for one and not enough for two units. We were allowed to solve this situation ourselves by dividing into two groups, keeping fraternity brothers together, and bringing our units up to quota with other recruits after we reached camp." The camp he spoke of was Camp Crane in Allentown, Pennsylvania, where the fifty men, led by Lt. George H. Clapp, arrived in June of 1917 and became units 524 and 525.
After only a few weeks of training, Unit 525 left from Hoboken, New Jersey on August 7, 1917 and arrived at the shores of St. Nazaire, France on August 20, where they served with the 63rd and 68th French Infantry Divisions. "They gave us a uniform, took us on march, put [us] on the boat, and we were on the front," Harold "Sandy" Steward '20 explained. "Boy, were [the French] glad to see us." They arrived at the front line near Verdun on October 9, where they recovered wounded soldiers from the battlefields in Ford Model T Ambulance Automobiles. After serving in Verdun, Unit 525 traveled to Aisne, Marvn, Champagne, and finally to Alsace. They were stationed in Alsace when the war ended, and they remained there until March of 1919 before sailing home in April.
Unit 524, on the other hand, did not leave for Europe until January 9, 1918. They actively participated with various American Divisions, and following the conclusion of the Aisne-Marne Offensive, Unit 524 was transferred to the defensive sector in the Vosges Mountains. In October 1918, Unit 524 was sent to the offensive with the American 77th division, actively engaged in various locations. While en route back to the Mountains with the 77th, the Armistice was signed on November 11, 1918.  
Unit 525 arrived back at Bucknell in May 1919 after 23 months of active service in France. University officials declared a holiday so students could celebrate their arrival with the townspeople of Lewisburg. Unit 524 reached Fort Dix, NJ in June 1919, where they were mustered out after 18 months of overseas service. Years later, both units were also celebrated during Homecoming at Bucknell on October 23, 1954. There they were honored during the homecoming football game at Memorial Stadium, which is named in dedication to Bucknellians who served during World War I as well as other wars.  As the centennial of the Armistice signing approaches, I ask that the University community and alums celebrate and remember the brave men who served in units 524 and 525 of the U.S.A.A.S. who sailed home over the deep blue sea , just as we did in '54,.