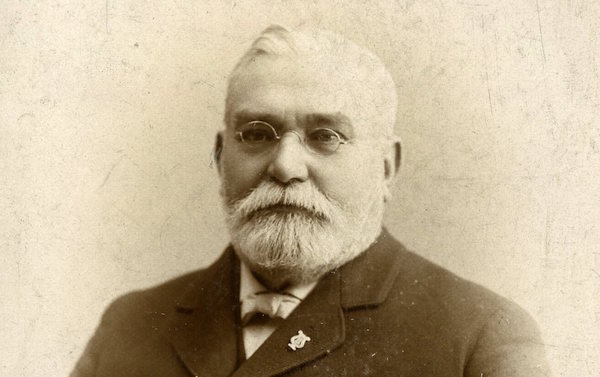 This fall, Bucknell welcomed many concert performers, various international ensembles, as well as the Class of 2022, with many new students coming to Bucknell with a passion for music and a sense of excitement as they chose music as their field of study. Bucknell is known for its enthusiasm for musical programming as well as its education of students pursuing a degree in music. It is worthwhile to step back from Bucknell's current environment and understand how music developed as a focus of study at the University, as well as the opportunities it offered students to participate in music related activities.
Music was first taught at Bucknell in 1853 by Melville Malcolm. He offered individual classes for students who had an interest in the musical arts, but, at the time, there was no option to earn a degree or diploma for such study. It was not until 1887, when Elysee Aviragnet was hired, that music was seen as a possible field of study for Bucknell students.
Originally employed as a teacher of music at the Female Institute, Aviragnet became the director of the newly created Institute of Music in 1890. He was quite popular among the students, and as he raised the standard of the music department at the Institute, the Trustees thought it would be wise to create a separate school of music with Aviragnet as the director. This was accomplished three years later, with the opening of the Bucknell's  School of Music in 1893.
At the completion of the program, the Bucknell University School of Music awarded diplomas, not degrees. Courses included piano, pipe organ, voice culture and art of singing, wind instruments, history of music, public school music, harmony, composition, theory, and vergil clavier. The School offered courses at all levels, from beginner to advanced, because it wanted to open the music program to all interested students. Aware that college students often do not have the time to pursue studies in practical music, the Bucknell University School of Music, created various student musical groups, such as glee clubs, mixed chorus, orchestra, and band. An early promotional piece for the School of Music circa 1940 states that these groups were a place "where such limited ability as the average student may possess is furnished with able direction from the faculty."
Since its inception, the Bucknell University School of Music was the only independent academic program associated with the University. Over ten years, the School increased its enrollment to approximately 124 students and steadily became more closely associated with the University's academic curriculum. On September 21, 1921, faculty proposed to bring the School of Music into the University's curriculum by establishing it as an academic department named the Department of Music. The creation of the Department of Music would come to pass under the presidency of Homer Rainey, who claimed that the "Colleges of Liberal Arts are coming to realize that they do not deserve the name unless they incorporate the Arts as a fundamental part of their program." As a result, in April of 1932, Romeyn Rivenburg, Dean of the University, voted to abolish the non-degree, four-year School of Music and established a major or minor in music, which lead to either a Bachelor of Arts or a Bachelor of Science degree.
Today, Bucknell offers students a professional music program with an internationally recognized faculty of performers, conductors, composers, authors, and lecturers where students can earn either a Bachelor of Arts or a Bachelor of Music degree. Regardless of students' major or field of study, the Music Department welcomes all students to participate in a wide variety of  musical opportunities, demonstrating the University's long commitment to the value of musical studies in the liberal arts environment.