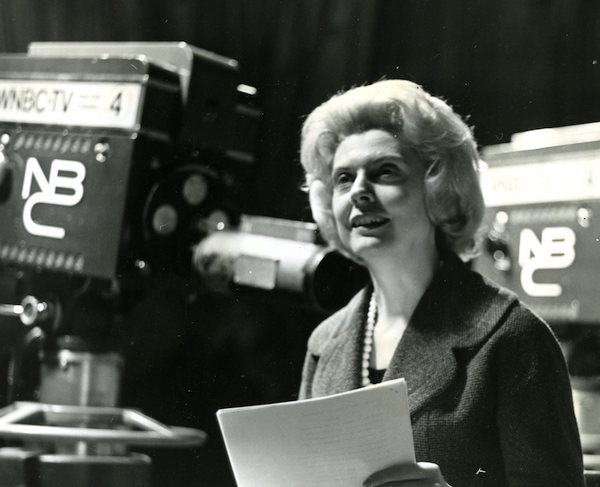 In 1973, a Bucknellian made her way to the Emmy Awards and won the academy award for Outstanding Achievement in Religious Programming for  her film "Duty Bound," a documentary about conscientious objectors. This Bucknellian was Doris Ann Scharfenberg, professionally known as simply Doris Ann, a 1938 graduate who went on to become an Executive Producer in religious programming for the National Broadcasting Company (NBC) and paved the way for women in the field of network television.
Doris Ann was considered such an inspiration to women everywhere that Gloria Steinem referred to her in the New York Times article "Nylons in the Newsroom." Steinem's article touches upon how women wanted to be taken more seriously on camera and within network television in general and she identifies prominent women who had done just that, with tips as to how to follow their path. Within her "The foot-in-the-door technique" she speaks of how "Doris Ann, a producer of religious shows at NBC, made it all the way from personnel."
Steinem's statement is true as Doris Ann made her first debut at NBC in 1944 in the Personnel Department, where she served as placement manager and executive placement director. She was approached in 1951 by an NBC executive to inquire about Doris Ann managing the religious program. Prior to 1951, Doris Ann's only formal education in the field of religion was a general Bible course she took at Bucknell. However, she jumped at the challenge, stating "The next 18 months were the hardest of my life," she said. "but it was the best training I ever received."
When she began her position as manager of religious programs, Doris Ann moved her camera crew into a church each week to televise a devotional service. She stopped this after a few years and instead began to offer specific programs that kept up with the ever flowing current of television and provided new perspectives about religion. Her three most popular shows were "Frontiers of Faith," "The Catholic Hour," and "The Eternal Light." They were all highly polished professional productions, each done in cooperation with one of the nation's three major faith groups. As public service programs, the shows were paid for by the network and these said faith groups, which were presented by the principal organizations: the National Council of Churches (Protestant and Eastern Orthodox), the National Council of Catholic Men, and the Jewish Theological Seminary of America.
Throughout her career, she had many outstanding moments. Besides receiving an Emmy Award, Doris Ann's produced award-winning show, including the "March of Medicine" program and the  "Children's Corner." She also produced the first dramatization of the "Diary of Anne Frank" before it became a stage play or a movie as well as the the first demonstration of the Roman Catholic mass in English. Doris Ann became a member of the Bucknell Board of Trustees and also received the Bucknell Alumni Award for Creative Achievement in 1972. If you wish to learn more about Doris Ann Scharfenberg, her accomplishments, or see her Emmy Award for Outstanding Achievement in Religious Programming, please stop by the Special Collections/University Archives on Lower Level 1 of the Bertrand Library.