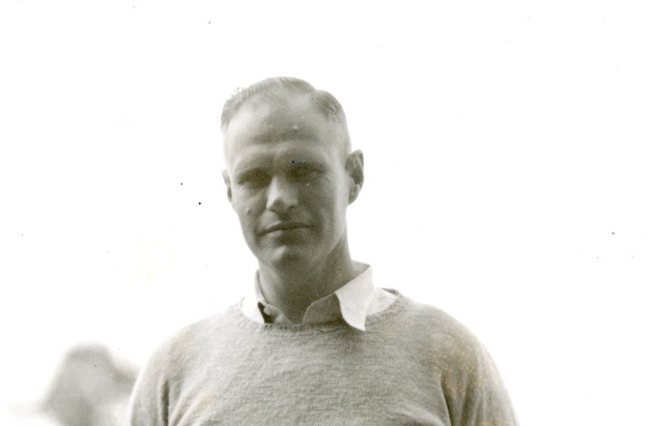 As I was looking through the archives of Bucknell World, a Bucknell publication for alumni that has been replaced by Bucknell Magazine, I found an interesting article in the September 1989 issue written by Victor "Vic" Oleyar '32 titled "Who Invented the Bird Cage?" First worn by 'the man in the iron mask' this familiar piece of football gear demonstrates the old adage "necessity is the mother of invention." As a football fan myself, I could not help but read further, to which I discovered an interesting story about Bison football.

According to Vic Oleyar, in the 1928 football season, Edward "Eddie" Halicki, captain of the Bison team, broke his nose in a match against Schuylkill College (modern day Albright College). Coach Carl Grey Snavely wanted Eddie for the upcoming season and was unsure of what to do, and knowing that the standard nose guard of that era would not suffice, he approached Bucknell's trainer, George "Peachy" Kling to find a solution. They came up with "a piece of thin metal, about an inch-and-a-half wide, that they wrapped with leather padding and inserted across the face of the helmet, eyes above and mouth and chin below. The ends of the metal strip were hand-sewn and anchored about an inch into the leather padding of the helmet's earpieces. It was a solid job, with absolutely no give, for the ultimate in nose protection." This invention was a success, and Eddie was able to play the rest of the season without further damage to his nose. The coaches and players called it the "nose helmet" and a reporter later addressed Halicki as the "man in the iron mask." Since there were no more broken noses on the Bison team, the helmet with the iron mask was put aside. Coach Snavely and Peachy Kling never patented the helmet or used it again. As a result, they were technically not the true inventors of the bird cage facemask on football helmets; that claim belongs to Paul Brown, the first coach of Cleveland's professional football team, who came up with a single bar face mask prototype in 1955.

Coach Snavely and Peachy Kling creating a birdcage or facemask type apparatus for the 1929 football season is an interesting fact about the Bison team and Bucknell University. If you have any interest in this article or reading more, stop by the Special Collections/University Archives on Lower Level 1 of the Bertrand Library.