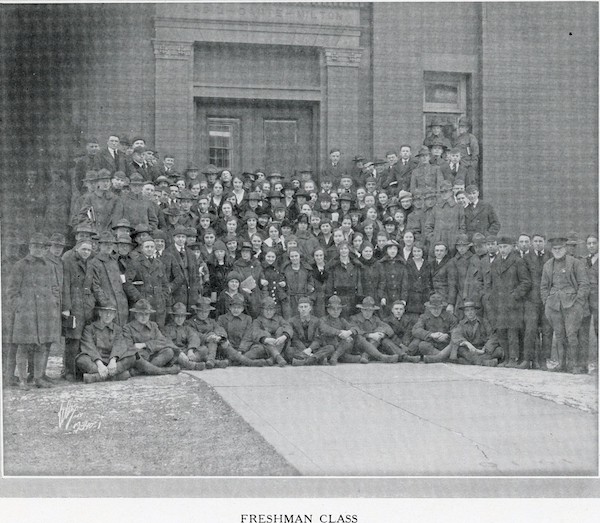 The word Freshmen, or "First Year Student" in today's terminology, conjures up many memories, both good and bad, for anyone who was or is one. As part of the series about looking back at Bucknell 100 years ago, I found some interesting documents about rules for freshmen from the 1920's that were created by sophomore students. It was a longstanding tradition that the upperclassmen would create these rules for the incoming class. While there were rules for all students on campus, every year the upperclassmen could enforce the freshmen's rules at their own discretion, separate from the campus itself. Found in the Bucknellian edition of October 18th 1920, the following is a brief list for the women students (Only part of the 12 total are listed):

"Freshmen must wear hats when off campus.
A green ribbon, one half inch wide, is to be worn tied around the neck with a bow, consisting of loops three inches long and streamers eighteen inches long, Attached to one end of this ribbon must be the freshman's name card.
Freshmen must not cut campus or cut corners when out walking.
Freshmen must not be heard discussing men.
Freshmen, when addressing sophomores, must say 'Yes Miss,' or 'No Miss,' as the case requires."

This article entitled "Freshman Girls Have Interesting Rules" pointed out specifically the strict rules about ribbons and that they were not allowed to discuss men, exclaiming: "Those wicked Sophs to treat the Freshies so!" Could this be a remnant of some drama from the year before? Quite possibly, but we may never know for sure. Either way, the rules imposed by the sophomores that freshman women found taped to their only mirrors in their dorms, seemed to have caused some contention and earned themselves a front page story in the Bucknellian.
Women on campus were not the only victims of these rules; there were freshman rules for men as well. The 1922-1923 student handbook listed the following rules for freshman men.

"Freshmen must not cut across campus or athletic field.
Mustaches are a senior privilege. Freshmen are not allowed to smoke cigarettes in public and must not smoke at all on campus.
Freshmen must speak to everyone at all times.
Except in the company of an upperclassmen Freshen must not be seen with a young lady before Washington's birthday.
All Freshmen must wear blue skull caps with green button on top, black ties and socks, every week day except to the Junior Prom and College Girls' Reception."

These samples from the rules that freshmen students had to obey give us another look into student life at Bucknell at the time. While many of these rules seem extreme and silly, they provide a point of view about relationships between the classes during that time. Will these types of rules ever be instituted again? Probably (and hopefully) not. But the process of learning from them is something that should be made a tradition, if for no other reason than to give us an appreciation for our own college experiences.