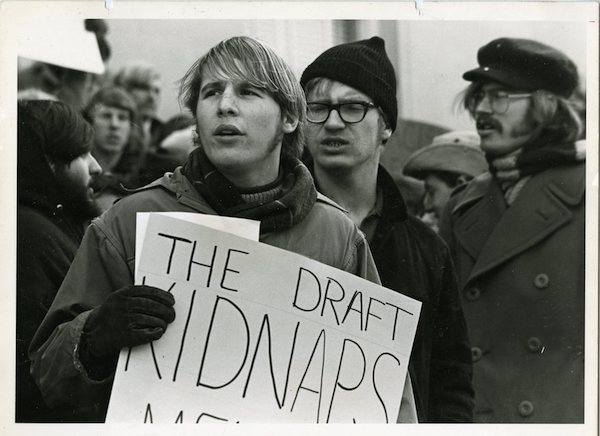 No matter the decade or political climate across our nation's history there were always those who took a stand for what they believed in, regardless of the price. In looking at documents from the Bucknell SDS organization (Students for Democratic Society), I found some interesting perspectives on the student protests of the Vietnam War. This was a hugely controversial time in history, because of the moral and ethical dilemmas regarding both sides in the war zone. During the late 1960s to early 1970s, men were drafted into the military to fight in Vietnam. This draft was a source of contention among those who did not agree with the war efforts, many of whom refused to participate. A document found with the SDS files records the law that detailed draft requirements. It reads: "Federal law requires every male born after August 30, 1922 to be registered for draft and to have his registration card with him, regardless of whether he is over age, has completed military service, or is physically unfit for military service." Because this was a federal law, it was illegal to disobey and anyone who did not comply would face penalty.
The draft cards that each man had to carry symbolized for some the pressure to support something that they did not believe was right. In the Bucknellian article published on May 6th, 1969 entitled "Draft Card Burning Scheduled In Protest of Selective Service," it was reported that a member of Lewisburg Resist would be burning his draft card at Memorial Stadium (now Christy Mathewson Memorial Stadium) in protest, "severing his connections with the Selective Service System and registering his opposition to campus and nationwide militarism." At the same time and place as this event, the annual President's review of the ROTC was to be held. The staging on this protest to line up with this event was purposeful, to show their resistance to "the most visible form of campus militarism." Lewisburg Resist was an organization set up to counsel young men concerning the draft, and this protest was organized by members of the group. This demonstration's timing was highly controversial because many saw it as disrespectful to the military, while others thought that it would bring more attention to the cause.
In response to this event and a report on the protest, an article from the Sunbury Daily Item from May 13th, 1969 describes "the black flag of anarchy, which a misguided adolescent flaunted before spectators" at the event. This was just one of the demonstrations of resistance at the Memorial Stadium during the draft card burning. The article also highlights that while the demonstrators made up only a small portion of students and faculty, that the act of draft card burning was illegal and that the "criminal acts must be dealt with as such." This article of course offers an oppositional look at the draft card burning, ending on the note that in showing their opposition on participation in military service, the students were protesting "everything that is American."
Of course political controversy has been happening since the birth of our country, that cannot be contended. But what is interesting is how we can document both sides of an issue and look back at the attitudes and concerns of people from that time. It is easy to reflect on history with the opinion and knowledge that we hold now, but for the people both participating in and protesting the draft card burning, it was a highly contentious issue that showed their concern and passion for their vision of a better future.