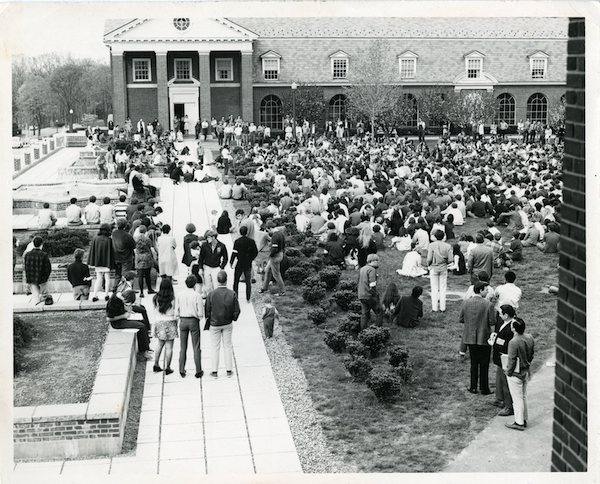 A year after a draft card burning on campus in 1969, and after subsequent protests during the fall 1969 semester at Bucknell, a national week of protests against the war in Vietnam were waged across the country from May 5th to May 10th of 1970. This protest was labelled as a Moratorium, as stated in the Bucknellian published on May 5th, 1970. Bucknell's recognition of and participation in the national "strike" was passed by a vote from the university faculty, who "approved 91 to 54 the resolution of the strike in response to the expansion of the war in Southeast Asia." This faculty decision was a source of contention because of the belief that cancelling of classes during the strike would be a disruption to students and faculty, particularly because the timing of the strike was right before finals.
The faculty passed a resolution as follows: "Be it resolved that the faculty accept the concern if Bucknell students as expressed in their slogan 'On strike, open it up and keep it open,' and that we further resolve to suspend normal university operations…to enable students and faculty to engage, individually and collectively, in activities that are addressed to our current national crisis." The debate among faculty also centered around whether, as representatives of the University, they should take a political stance on a national issue. However, the University decided that enough students and faculty were concerned about the war efforts and how it affected university life that action had to be taken. The strike schedule included speakers, an economic boycott of Coke and soda industries for their support of the war effort, seminars on Marshalling and Non-Violence, and a Peace Rally at Bloomsburg, as well as a participation in the rally in Washington D.C.
This rally at the nation's capitol occurred only a few short days after the shooting at Kent State, where students were killed during protests. The Kent State Massacre occurred on May 4th, the day before these national student strikes on college and university campuses were to take place. Not only were students protesting the war in Vietnam, they then also had to contend with fearing for their life during these protests. However, students still went to the rally anyway, with the goal to make their voices heard. According to the Milton Standard from May 8th, 1970, this trip to Washington D.C. was aimed at securing lobbying power in Congress for the strike position. Approximately 70 students and faculty were at the rally, which was reported to be orderly and non-violent. The Milton Standard also reported on May 19th, 1970 that official mourning at Bucknell for the students at Kent State was to take place from May 18th to May 24th, the final exam week for the campus.
The events that unfolded this week were crucial in our country's history. The massacre at Kent State is still infamous to this day, and certainly the week during which it occured is no less important. It showed that students were to be taken seriously and that they wanted their voices to be heard. Student and faculty representation from Bucknell at our nation's capitol attests to its importance, because even a smaller university such as Bucknell was able to be a part of something monumental that truly changed our nation.