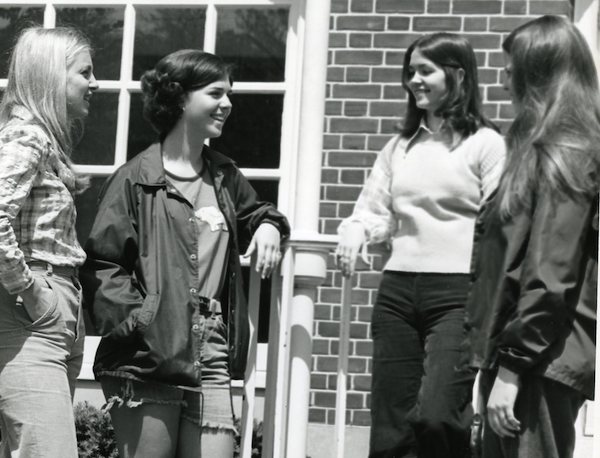 The "Women's Affirmative Action Report" was published in 1972, exposing key insights in the battle for equal rights for women on Bucknell's campus. The Bucknellian published the Women's Affirmative Action Report on October 27th, 1972, exposing key insights in the battle for equal rights for women. The report emphasizes that although affirmative action means "the taking of positive steps to end sex discrimination," therefore, the "obligation of the university is to integrate women into all parts of the academic community from admission of students to faculty and staff recruitment status." The following contains information from the official report and the reception of events inspired by this affirmative action.
The report begins by describing what affirmative action actually means to the University. Section II outlines the current inequalities between students and faculty. At the time, only 38% of students on Bucknell campus were female, while they comprised 78% of the top 10 students in the graduating class of 1972. In addition, approximately 8.6% of faculty were female. The departments that did not have women on faculty were art, astronomy, classics, economics, geology and geography, history, philosophy, sociology, anthropology, and the College of Engineering. These numbers are truly staggering to the reader today, but it was not unusual at academic institutions at the time. Many other colleges and universities had similar percentages.
To further reflect the inequality of faculty, the same section points out that 3 out of the 11 positions of full time faculty hires for the upcoming academic year were women. In the humanities, males with senior rank and 8+ years of experience earned $2,375 more than women annually (today this would be approximately $15,700). The report published in the Bucknellian concludes Section II with statements summing up these statistics, stating that "1) Recent efforts to improve the balance have made little progress toward an acceptable goal. 2) There is clear discrimination in salaries for women. 3) In 1972-73 women have presented more academic preparation than their male counterparts for the same position and ranks." This is no doubt a call to action for the University to create a more equal playing field.
Section III begins by pointing out that Bucknell was not the origin of these discriminations, rather they were following the tradition of "sex stereotyping." The report lists these stereotypes which, I believe, need no explanation, as they are stereotypes still in existence regarding the traditional gender binary. Section IV lists proposals to resolve the inequalities between faculty and students. Most of the proposals for faculty include hiring practices and rights such as maternity leave. For students, the resolve was to admit females at a rate of 50% of total freshman class, as well as assisting with job recruitment and not working with employers who list sex preferences for jobs. Health services would also be available to women for needs such as birth control and gynecological exams, which were not previously offered. In addition, it was recommended that a women's studies program be established to help Bucknell "augment its reputation as an innovator among small colleges."
An article from the Bucknellian on the following Tuesday, October 31, 1972, provides a response to the Women's Colloquy that welcomed speakers and hosted events on women's rights and also recognized the previous week's release of the Women's Affirmative Action Report. The Bucknellian reported "At least 500 persons were jammed into Vaughn Lit auditorium for the keynote address." Both faculty and students came out in support, many of whom worked on the Affirmative Action committee, as well as those who wanted to understand the movement. Maryann Brandt, chairperson of the event, said that she sees the women's issue as "touching everyone, male or female." However, the Bucknellian article also recognizes some unrest from "certain male elements," stating that although some men came to the event out of curiosity, others came out of "pure malice."
To see such inequality happening not so long ago is both frightening and encouraging because of how far we have come in such a short amount of time. According to Forbes.com, current enrollment among students at Bucknell is 51% female and 49% male, certainly a large difference from what it used to be. While it is important to continue to make strides toward equality for all, it is eye-opening to see what can be accomplished by the movement started by a determined group of people in 1972.