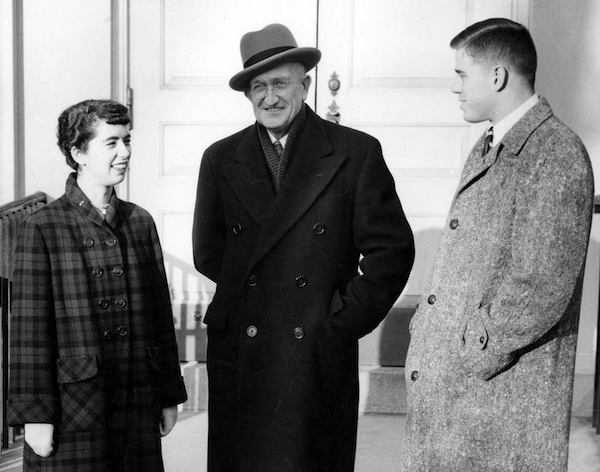 (Photo: The three presidents: Polly Told, president of Women's Student Government Association, Bucknell President Merle Odgers, Richard Klaber, president of Men's Student Assembly, 1955)
Bucknell boasts a low student to teacher ratio, allowing close interaction with teacher-scholars and is a place where students may explore many interests on a picturesque campus—all unique characteristics of a residential teaching institution. While the University has long had a focus on teaching, one Bucknell president deliberately guided Bucknell down the path to become what it is today. At an alumni homecoming luncheon in October 1958, President Merle Odgers announced the launching of a $1,850,000 campaign to "put Bucknell into a higher orbit in American education." 
It was a time when Bucknell needed to define itself and its direction. The University had adapted to meet educational needs during two world wars as well as the post-war increase of student enrollment. By the late 1950s the rush of post-war education had ended but the baby boomer generation would soon be ready to enter college.
Odgers was Bucknell's 10th president and upon his arrival in 1954 he initiated the Bucknell Study, a major self-study to examine and suggest improvements to undergraduate education, both academic and in campus life. Informed by the findings of the Bucknell Study, Odgers laid out his plan for the priorities for the University and the campaign in the publication "The Bucknell of Tomorrow."
In "The Bucknell of Tomorrow," he outlined a path on which the University remains primarily an undergraduate institution providing quality teaching and campus life opportunities and would seek "students capable of becoming scholars and intellectual giants because our culture needs them, but we also want young people who are simply 'teachable,' in the sense that they can get something out of what we have to offer–out of classroom, library, and laboratory, and out of our community life." Odgers understood the importance of strong teachers who were involved in their fields and developing a campus that would provide the setting for students to explore their interests. The vision articulated several goals to create a strong future: superior faculty who are appropriately compensated, measured increases in the student body, additions and improvements to campus facilities especially to complement the first two goals, and finally increase the University's endowment to provide adequate funds for the future.
By 1964, when President Odgers retired, many goals had been accomplished. The campaign goal of $1,850,000 set in 1958 was met in less than two years receiving funds primarily from alumni, parents, and private foundations. In the ten years of his presidency, faculty salaries more than doubled and student enrollment grew by 25% to 2,580. Campus facilities greatly expanded with the construction of Coleman Hall, Marts Hall, Swartz Hall, and a new Observatory. Davis Gymnasium, Trax Hall, Kress Hall, Larison Hall, Harris Hall, and the Carnegie Building had been renovated. Plans were underway for the construction of Rooke Chapel and Vedder Hall. And the University's endowment quadrupled to $14 million. These efforts, just over sixty years ago, set into motion the vision for Bucknell to become the residential teaching institution that we know today.