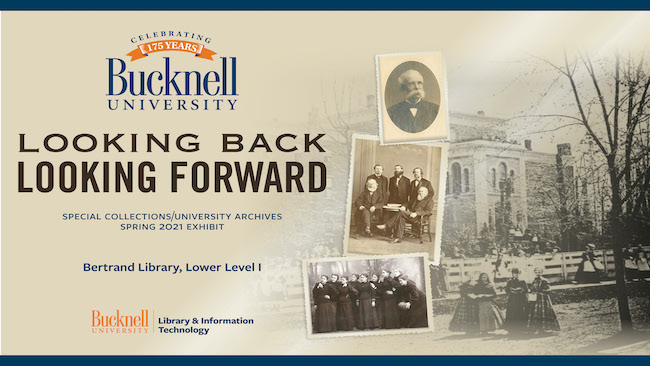 At a time when many Americans were headed west to Oregon or California, the U.S. was at war with Mexico, and Frederick Douglass was lecturing in Ireland and Great Britain about racial discrimination, a group of Baptist leaders were working to establish an institution of higher education in central Pennsylvania which was established as the University at Lewisburg in1846. This year marks the 175th anniversary of the founding of the University at Lewisburg, later named Bucknell University in 1886 to honor William Bucknell, a trustee and generous donor to the University.
To celebrate Bucknell's 175th anniversary, Special Collections/University Archives is presenting a series of exhibits throughout 2021 highlighting different periods of the University's history. The first exhibit is now available with a display of artifacts, documents, and photographs representing the University's history from its inception in 1845 when the Northumberland Baptist Association formed a study group to evaluate the feasibility of establishing an institution of higher education in central Pennsylvania until 1886 when the University was named Bucknell University.
The exhibit is located in the Special Collections/University Archives exhibit cases on Lower Level I of the Bertrand Library, and is available for viewing during the Bertrand Library's open hours. Please be advised that until further notice, only current Bucknell students, faculty, and staff may enter the library.